This is a story about living in a dreamlike state...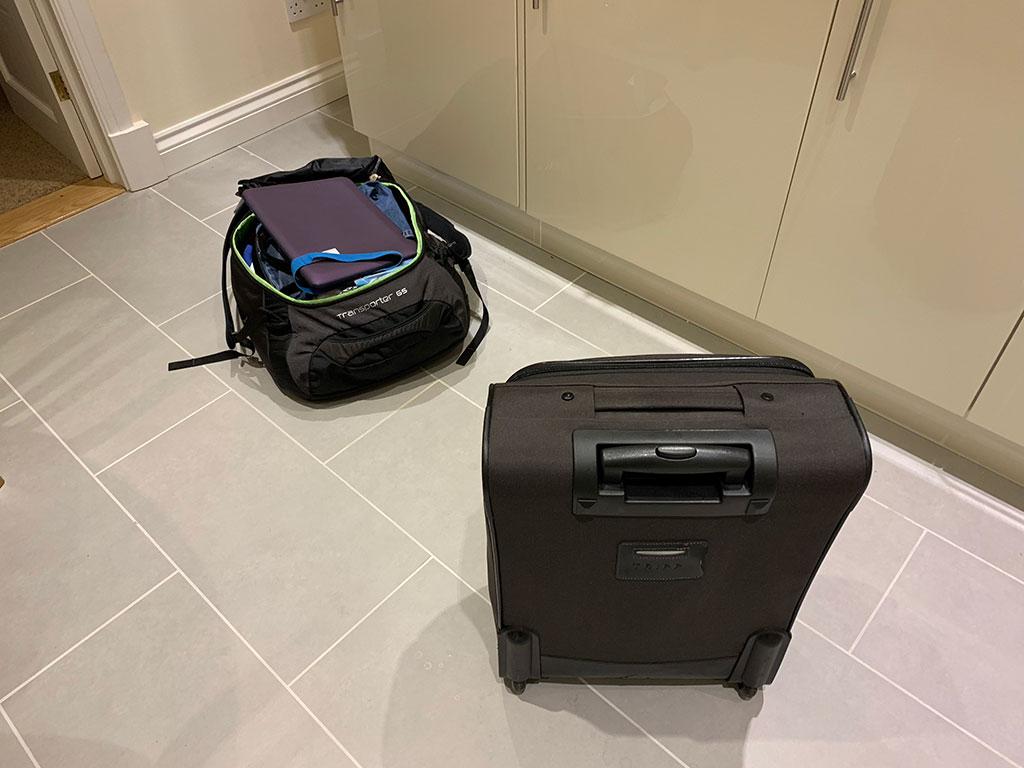 I've spent the day feeling very unwell. I've drifted in and out of sleep. Every time I've woken up, I've been confused about where I am. What is this bed I'm sleeping in? Where is the bedroom door? Where is the toilet?
In my dreams today, I dreamt about two places which only exist in my mind. These two places where my brain thinks I've lived, are actually not real places at all. My brain is so jumbled up that it contains very detailed pictures of two places that I've never been to in my life - in my dreams, I know the colour of the walls, the layout of the rooms, the view from the windows, the furniture. In my dreams I feel absolutely certain that these are places where I've lived, but it's not true.
In those moments when I was waking up today, I was certain that I've lived in those imaginary places, and I had no idea where I actually was.
Strangely, those imaginary places feature quite regularly in my dreams. Sometimes I'm transported back to places I lived as a child, except those homes are always strangely altered in my dreams - they contain extra floors and corridors lead to unusual places. The two imaginary places which keep popping up in my dreams always look the same though - it's as though I know those places better than anywhere I've ever lived, even though they don't actually exist.
I think it's pretty clear that all the travelling around and living out of a suitcase has left me quite disturbed.
When I arrived home last night, I dumped my 4 bags onto the kitchen floor, which is pretty much where they remain, untouched. When I say "home" I don't really mean home in the sense that you might think of it, because I know I must leave here again very soon.
I've been feeling sick all day.
I don't feel well enough to go to work tomorrow.
Going to work entails me packing everything I need for the working week. Going to work entails me loading my bags into my car and driving across the country. Going to work entails me staying somewhere which isn't home, but yet it almost is.
I've become familiar with the hotels I stay in, except that the rooms are mirror-images of each other, so there's only a 50% chance that I'll get out of the right side of bed to stumble to the toilet in the middle of the night. When I reach for the bedside light-switch, there's a 50% chance that I'll flick the switch that turns on the bright main lights in the room, as opposed to the bedside lamp. I exist in a world where every bed is slightly unfamiliar, and the least familiar of all is the one that I suppose I might refer to as "in my home".
My stuff is spread all over the place. Some of my stuff in a friend's mum's garage. Some of my stuff is piled up in my bedroom. Some of my stuff is packed into suitcases and holdalls, so that it can be transported around from place to place. When I'm away from home, it's a 2.5 hour round-trip to collect anything that I might have forgotten, or anything that I might unexpectedly need.
I spend a huge amount of time trying to stay organised. The things I travel with are neatly partitioned: Work clothes and casual clothes, toiletries, medicines, gadgets, footwear, raincoats and other things which have crept into my luggage by accident, where holidays have overlapped with my on-the-road existence. I have no need of flip-flops, sunglasses and travel plug adapters, but yet these things end up being lugged around by me, because they're small and light so I never bothered to leave them behind.
Where do I live anyway? The bulk of my possessions are stored in somebody's garage. The things I need the most are transported around by me, everywhere I go. The majority of nights, I'm sleeping in a bed which is not my own. The only constant is my luggage - everything else changes. I never unpack my bags. I've become extremely adept at rummaging and locating the item I need.
If I wanted to go to work tomorrow, I would need to wash, dry and iron my work clothes. It's 11pm at night and I would need to leave at 7am to be at work on time, so that doesn't give me enough time to get the sleep I need as well as packing everything I need for the week ahead.
In some ways, I had a more settled life when I lived in a hostel. At least in the hostel, the bunkbeds were all identical and I got used to where the toilets were. I got used to the noise of the other inhabitants. I got used to homeless life, because I was living it 7 days a week, instead of having this split and nomadic existence.
The constant change in my life is unsettling, and that's why I think my mind has retreated into the realm of the imaginary. Not having a stable home is the reason why I find the imaginary homes in my head more familiar than the hotels rooms and rented places where I actually sleep.
The demands placed upon me have disturbed and unsettled my mind. I've been made sick by the lack of security and stability in my home life. My arduous yet delicate weekly routine is easily disturbed, with catastrophic results for my sense of wellbeing and ability to function.
Yes, I'm well-practiced at packing my bags and dealing with mirror-image hotel rooms, or even hostel dorms, while somehow maintaining the illusion that I have a settled and secure ordinary middle-class life, like my colleagues at work. Yes I can tolerate the intolerable, for a while, by sticking to my routines and following my procedures, but it's very demanding and I'm always on the verge of having a nervous breakdown from the stress.
My fridge is empty. My cupboards are bare. However, tomorrow I will remain "at home" and do my washing, and make my preparations for the remainder of the working week, which I imagine I will spend in a hotel. I will attempt to resume my routine. My routine is what I have instead of stability and security.