This is a story about nurturing...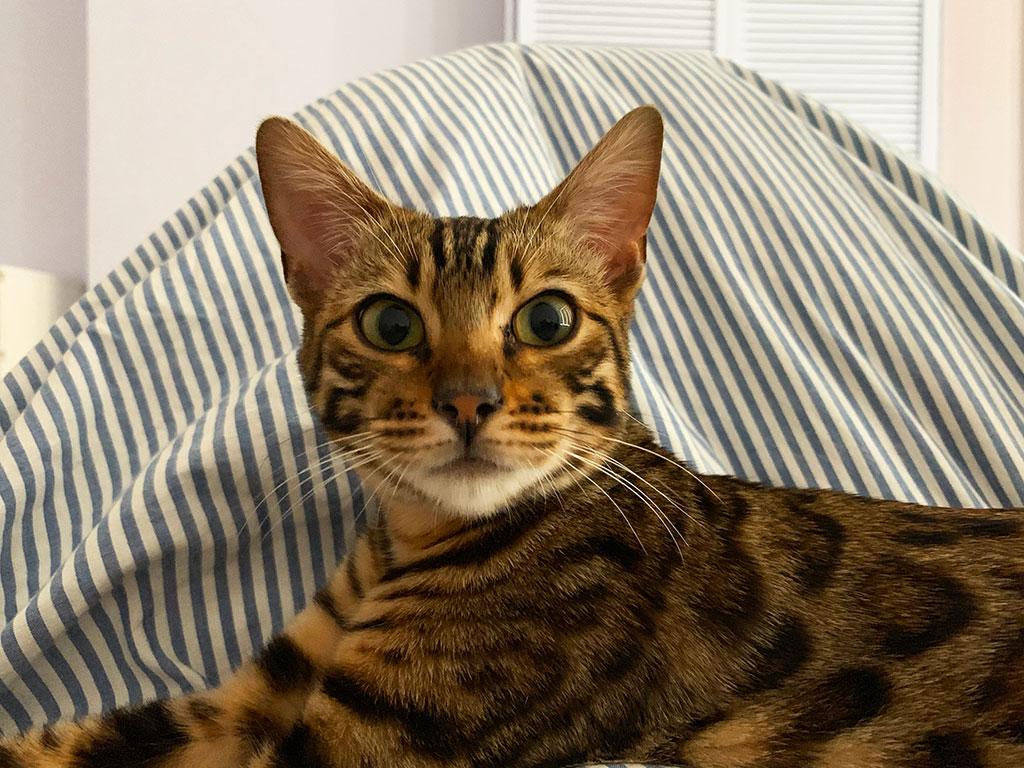 My cat routine starts pre-dawn, being kicked and having my feet attacked. Then my cat shoves her head into my hands, forcing me to stroke her, while I struggle to sleep. In the shower, she wails outside the bathroom unless I let her in, in which case she will destroy the toilet rolls. As I get dressed she repeatedly attempts to go into my wardrobe to urinate. I go downstairs to feed her, and she desperately attempts to trip me up. She charges around crazily, whether I've fed her or not. She occasionally decides that she wants to play rough, and starts attacking my arms and legs.
Throughout all this human-cat interaction, I talk to her. Mostly "no!" and "stop that!" and other cries of shock and pain as she attacks me unexpectedly, but also I meow back whenever she is around. She seems to forget that I'm at home, and she meows forlornly in some distant part of the house and comes running when she hears me meow back.
If I'm pottering around doing chores, I generally chat to the cat, who is my constant companion.
I would be lonely, alone in my big house, but my cat is very entertaining.
I was very stressed about my sleep being disturbed, but I've become used to her being crazy late at night and early in the morning. She can be very annoying and make a lot of noise, attacking things and me, and zooming around at high speed - the drum beat of her paws sounding very loud at unsociable hours of the day - but it's become more normal and routine now. I can cope. It's almost nice, especially in the brief moments when she calms down and wants to be affectionate.
The two cats I've had before have mostly enjoyed sleeping. I've never had a cat with such an interesting personality; so entertaining. She's a nightmare, but I've gotten used to all the new rules I have to follow: I can't leave any paper or cardboard out, or it will get shredded. I can't have nice plants, or else they will get chewed. I can't have floor-standing paper lamps. I can't leave coats, jumpers or blankets lying on the floor, or else they will get peed on. It's kind of like having a puppy, I guess.
I take far more enjoyment out of feeding my cat than I do myself. I put more effort into choosing something that I think she'd like to eat than I do for myself. In fact, I spend far more time doing things for her than I do on self-care. I was thinking to myself about what toys I should buy for her. I have plenty of motivation to look after her, even though I'm neglecting myself.
Her cries are not quite as baby-like as a Siamese, but I was thinking how much her cries elicit an immediate desire to rush to her aid. She's definitely a child substitute, although not one that's going to grow up traumatised and tell me that I was a terrible father. She has a good life and she will be dead long before climate change makes the planet inhospitable, and she can't have any children. She is not tormented by existential angst. She is not deprived; she's spoiled.
If I was forced to leave Cardiff in order to take a contract in London, I would have to rehome her, which would be heartbreaking. Living without a cat again would be a major blow to my quality of life. However heartless it might sound, I still need to get another year of good earning and savings under my belt, to give me that all-important financial security I have worked so hard to get. It'd be awful, losing my kitty, but it's impossible to get a landlord to agree to having a pet in London. Hopefully I can extend my current contract or find another local contract, but I always plan for the worst.
Having a cat has helped me so much during this difficult period, where I'm having relationship problems, and I'm under enormous stress and pressure at work.
Tags: #cat