This is a story about spectator sports...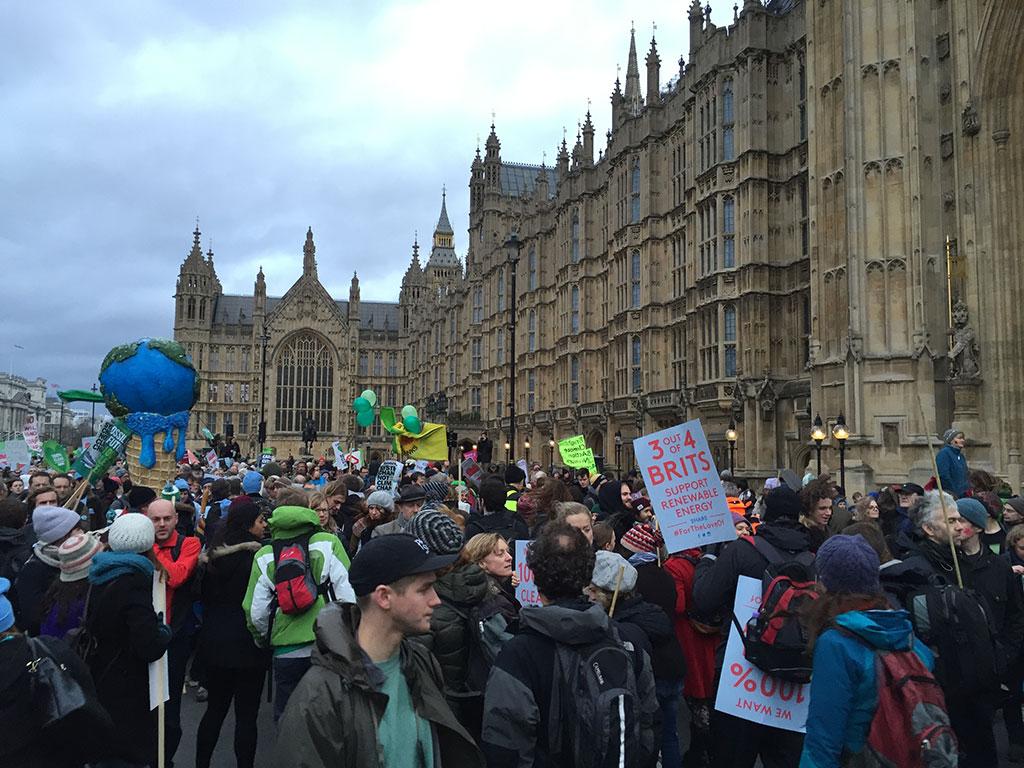 Politics and protesting is a kind of hobby for the middle classes. In the absence of a football team to support and matches to attend, the middle classes engage in similar tribal behaviour with their political party affiliations and their favourite political causes. Instead of an irrational hatred of a geographically proximate football club to one's own preferred football club, the middle classes hate the political party on the opposite wing from their own chosen party. The reds hate the blues and the blues hate the reds, whether it's football teams or political parties.
The issues of the day have rather vague and nebulous non-threats. Terrorism and immigration do not affect us day to day. Climate change does not affect us day to day. Brexit does not affect us day to day. Very few of us will be victims of terrorism, man-made climate change or economic catastrophe due to leaving the European Union. Why get so worked up about these things?
Given that most of us are idle in our bulls**t jobs which needn't exist, we have plenty of time to read, listen and watch the news. We have plenty of time to engage with social media. We have plenty of time to partake in manufactured outrage and to work ourselves up about things which have no bearing on our day to day existence.
My mental health is fragile.
The constant media bombardment with nonstop news coverage of the political drama is something that affects me more than it should. I think I'm somebody who feels quite a lot of empathy - a lefty libertard snowflake - and I am often taken in by my perceived onslaught on the vulnerable members of society. I'm one of those bleeding-heart tree huggers. I feel a great outpouring of sympathy for refugees and asylum seekers, homeless people, alcoholics, drug addicts, neglected and abused children, neglected and abused animals, and indeed our ecosystem. I struggle to go through life with a "take are country back" (sic.) attitude, and to ignore the climate emergency, the refugee crisis and the misery inflicted by economic disaster and austerity. I struggle to distance myself emotionally from current affairs.
I'm acutely aware of how little I am contributing towards worthy ideals. My bulls**t job requires me to drive a car and otherwise pollute the planet, as well as robbing my labour from any efforts to build a better world. It would, in fact, be better if I just stayed at home; far less polluting. If I didn't have to go to my bulls**t job then I would have all the time in the world to knit my own yoghurt and wipe my bum with a chinchilla, or whatever it is that tree-huggers are doing these days in order to save the planet.
It's highly toxic to my mental health to be forced to spectate. It's awful that I have so little opportunity to be a productive member of a new, better society, helping to build a better world. It's really crappy that the coercive demands of unrestrained free-market capitalism dictate that I have to choose between homeless destitution, or selling my soul and being part of a society which is destroying the planet, in pursuit of endless profit and growth, with no regard for sustainability.
I feel as though I'm an aerial, a satellite dish, receiving an incomprehensible and unprocessable torrent of information at all times. I feel tuned in to so many things, and those things all cause me pain.
I can't do anything about the pain.
I see something about climate change and I want to alter my lifestyle completely, to reduce my carbon footprint, but then I remember that I'm trapped by capitalism.
I see something about homelessness and I want to build social housing, but then I remember that I'm trapped by capitalism.
I see something about asylum seekers, refugees, drug addicts, alcoholics, mental health problems, suicide, youth unemployment, bullying, child abuse, animal cruelty... and I want to quit my bulls**t job and to build a better world, but I can't because I'm trapped by capitalism.
Instead, I'm trapped on the sidelines, watching with horror. Instead, I plough my intellectual energy into social media, writing and worrying; thinking about what the solutions are to the world's problems, and arguing with people who want to "take are country back" (sic.) and otherwise perpetuate the situation ad nauseam.
It makes me unwell, hoovering up all this information - all these world events - all day long, and thinking about the problems, and worrying, and using my rational brain to think about solutions... solutions that I'll never be allowed to put into practice, because I'm trapped making profit for billionaires; trapped by capitalism.
I hate being this sensitive. I hate being tuned into everything. I hate being powerless. I hate being sidelined. I hate spectating.
I'm a productive busy thoughtful person. I'm also very sensitive.
It's agony right now, being forced to spectate while everything burns.
Tags: #capitalism