This is a story about second chances...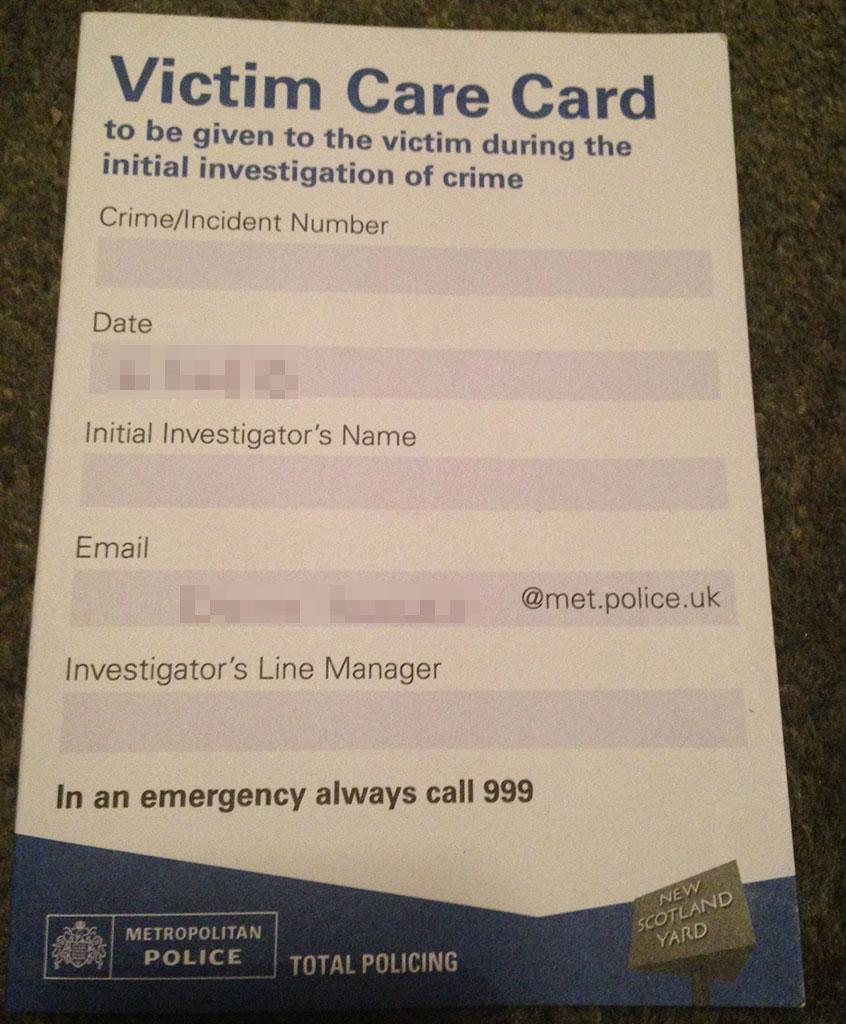 When I got home after work this evening, the burglar alarm was going off in my next-door neighbour's house. I didn't know it was the burglar alarm, but when I later went around to see if my neighbour was at home, I could see that the back gate was hanging off its hinges. I became suspicious. The lights of the alarm were flashing and it was clear that nobody had been home for a period of some days. I wondered if there had been a break-in.
I phoned the police.
Why wouldn't I phone the police? There was a reasonable amount of evidence that there'd been an intruder: The intruder alarm was going off and the back gate was hanging off its hinges. The house was obviously unoccupied to me - an ordinary law-abiding citizen - so I imagined that it must have appeared much more obvious as a target to anybody who practiced acquisitive crime.
In the UK we have a non-emergency number for reporting such things, which I didn't really hesitate to use. Why would I not do a good-neighbourly deed of reporting something suspect to the relevant authorities? Why would I not set the wheels in motion, so that anything out of good order could be set back straight again?
Selfishly, I really wanted the alarm to stop ringing, because it was really noisy inside my house.
The alarm is still ringing now.
I gave the police my name and date of birth. They asked me if I still live at my old address. They told me the street name. I told them I don't live there anymore.
So.
The police have got my name and data of birth correlated with my address on a computer system somewhere.
That's somewhat alarming.
I suppose I'm no stranger to the police, but still, I've got a clean criminal record. I've never been convicted of a crime. I've never been to court.
I don't even have any spent criminal convictions. That is to say, that I've never been a convicted criminal ever in my life.
In the UK, after a certain amount of years, a person is no longer required by law to disclose their criminal record to potential employers. In the UK we give people a fresh start; a second chance. In the UK we rehabilitate our offenders... those who learn their lessons and pay their debt to society are allowed to have their sins forgiven and forgotten... although of course we must remember that some crimes have victims, those victims have suffered, and those victims may continue to suffer.
We have taken a choice as a society. We have decided to let ex-convicts be given second chances.
I'm a non-convict.
It was coincidence that I was driving home and I was thinking about the grilling I'm potentially going to get over the data that the police hold on me. My employer is entitled to see all the data that the police have. My employer is entitled to ask questions that nobody else in the country is, because it's in the interests of national security.
I have to be thoroughly vetted.
My background is thoroughly checked.
My data follows me around. My data will never be expunged. My data is held permanently on record.
Perhaps I'm asking too much - asking to be too close to the inner circle. Perhaps it's an unreasonable request, to be accepted into every single part of society as a law-abiding obedient servant of the Crown, fine upstanding member of the community and citizen of the United Kingdom. I know that I have erred in the past, but the nature of my errors is something that lives on only in the memory banks of the police computer databases. No court has ever found me guilty of committing a crime. I've never set foot in a courtroom. However, the data records show that I have had some contact with the police, and I expect I'll have to explain that to my employers.
The police telephoned my neighbour and she returned home to check her house and her belongings were secure. I have ingratiated myself with my neighbours - obtaining the telephone numbers on both sides - and done a good deed. Is my dark past behind me now? Have I now re-entered civilised society? On balance, do I owe a debt to society or have I contributed amply?
It does concern me that my past behaviour might be used as a predictor of future behaviour, and as such prejudice my career progression and perhaps even deny me things such as housing, but that day has not yet arrived. I am anxious about what the future has in store for me, given what's plainly visible to those who have access to my data, but I proceed on the assumption that if there has been one thing clearly established in my adult lifetime, it's that I've been dedicated to my job, not breaking the law.
I assume that I'm going to be given my full set of opportunities. I assume that I will not fall afoul of any prejudice.
It's kind of a scary time though. I have to trust the system.
Tags: #police