This is a story about being swamped by bureaucracy...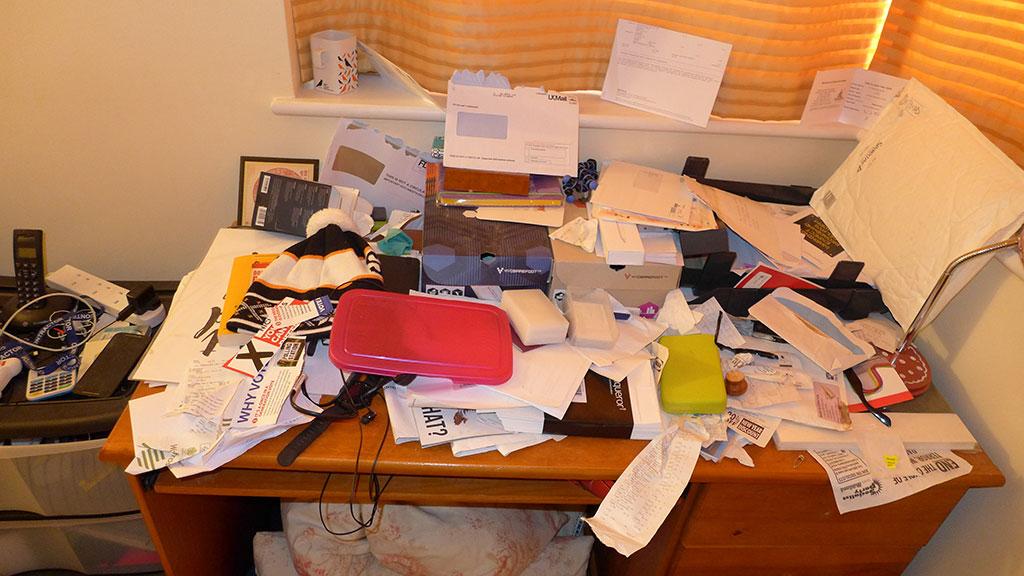 Once my administrative affairs are in a neat and tidy state, it's not too hard to stay on top of things. As various demands for money with menaces arrive, I can deal with them more-or-less on the spot, and my life ticks over with only a small amount of time required each day to open mail and pay bills, or complete other bureaucratic tasks.
Moving house, especially as a business owner, is a seismic event.
The more frequently a person moves, the more the administrative burden grows, until it becomes almost unbearable. Each previous address requires a significant amount of effort, to convince the various suppliers of gas, electricity, council services, broadband, telephone, water, sewerage, home insurance and a billion other things, that you are no longer liable for the bills. Each new address immediately demands that some payment is made in advance, and it is a very manual process to automate the collection of future payments, such that bills don't become a monthly ordeal.
As a business owner, I have a responsibility to change the adress on no fewer than 5 different government services, which ensure that I am compliant with taxes and my duties to the public to be transparent as a director and shareholder.
As a car owner, I have a responsibility to ensure my drivers license has my current address, my car is also registered at the correct address and my insurance is updated to the current address.
All kinds of things like mobile phone contracts, bank accounts, life insurance policies, home insurance policies, subscriptions to various services and other similar stuff, all has to be changed to my new address.
If I want to visit a doctor or a dentist, I will have to register locally, and they will want to see some proof of address.
The administrative burden of being a British Citizen is bad enough, but the deeper into civilised society you get, the greater the amount of work is required to handle all the consequences of moving house. Failure to remember any one of the very many things - such as a TV license - can result in huge fines for non-compliance with the duty we have to keep our records up-to-date and stay on top of all the millions of letters which get sent every day, demanding money with menaces.
I accept that I receive a great deal of services in return for my money, but because my life is supported by a patchwork-quilt of organisations, each making their own unique demands to be dealt with and paid in different ways, the complexity and effort involved becomes quite staggering.
For some segments of society, they are paid in cash, they pre-pay their gas and electric by loading "credit" onto a key, which they slot into the meter in their house, they buy mobile phone credit in shops, and otherwise they're relatively free from the burden of the very many organisations which I regularly have to deal with. Moving house, for some people, is as simple as moving their stuff - nobody will be chasing them for money, simply because they forgot to tell anybody they were moving out.
When my life became chaotic, I got very badly behind on my administrative duties, but I did manage to avoid total disaster. My paperwork is a dreadful mess, but I can find the relevant pieces of paper that I need, eventually. The process of getting on top of things is extremely distressing, but I usually manage to make the effort required before I'm overwhelmed with punitive fines and costs added by organisations, who seek to profit from people who are swamped by the unfair burden placed on individuals.
Individually, the demands being made do not seem unreasonable, but cumulatively it becomes an absolute nightmare. I count 24 items on my todo list for today alone, all of which are urgent and essential, and delays would be very costly. If I was unwell for a month or two, I could easily be financially ruined by the bloodsucking parasites who hope to profit handsomely from a mental collapse; the circling vultures.
I opened two letters which recently arrived, and was gobsmacked to see demands for £3,000 worth of services I haven't even received yet plus I have decided to defer other costs which most people would consider essential, such as insuring the contents of my home. When I add up all the charges I'll have to pay, for example for getting a new driving license and for changing my car insurance address, it amounts to a sum of money which would be financially ruinous for most ordinary people. No wonder so many are in financially distressed situations, having to borrow from loan-shark payday lenders just to cover ordinary everyday household expenses.
I am fortunate that my dogged determination to protect my credit rating and persevere through a period of illness which would have seen me bankrupted, unemployable, unable to rent a home and unable to get gas & electric supplied - plus all the other unseen consequences of having a black mark against your name - has now seen me emerge from a very precarious period in a much more financially robust situation, where I won't be forced to borrow money to cover unexpected expenses, I hope.
It seems like a very rigged system. Those who are struggling are very harshly punished, further compounding their misery and stress, and destroying any hope they might have of escaping their predicament.
I don't understand why it's not possible for me to simply put a vast sum of money into a bucket and let the bloodsuckers and the vultures squabble over who has a valid claim for it. It upsets me that such a heavy burden falls on me to do the work of figuring out all this crap for these organisations, lest they inflate their demands for money so much that they'll ruin me, despite my ability to pay - I'm able and willing to pay, but for god's sake make it easy for me, can't you?
The pile of mail that's accumulated in my new house, even though I've not yet told anybody I've moved, is quite frightening. The complexity of running a modern life is too much, on top of the demands of commuting and working a full-time job. It's unfair to ask a single person with no support, to plough through the bureaucratic bullshit.
I can see why people kill themselves over seemingly trivial things. Life is pretty easy when you have a settled and secure home life and everything is set up so that it ticks over with almost zero intervention, but you must understand that life's not like that for me - I'm swamped with paperwork, and a single error can easily be compounded to result in a demand for life-destroying sum of money, once all the bloodsuckers and vultures have added their unreasonable fees.
It might seem silly to worry about "just a bit of admin" but in actual fact, it determines my entire life outcome. To ignore any one single thing could cause a cascading catastrophe, and see me destitute, homeless; ruined. Living with constant housing insecurity is unimaginably awful, compounded by the ridiculous situation of all the various organisations making competing demands all at once.
I'm in the depths of admin hell.
Tags: #capitalism #moving