This is a story about packaging...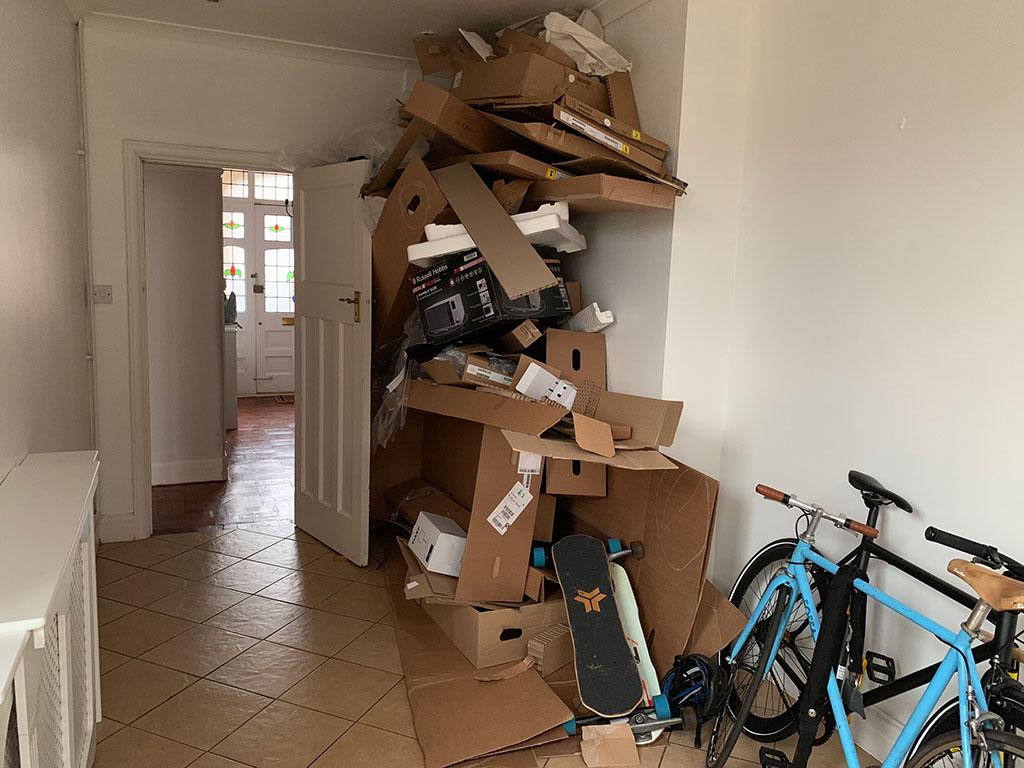 My house has high ceilings but I've still managed to reach the ceiling with my mountain of cardboard packaging, mostly from all the Ikea furniture I've bought. Arguably, I'm getting by with the bare minimum amount of furniture. What's the minimum amount of furniture that you could have, and lead a fairly normal life?
I lived out of suitcases and holdalls for a long time, so it seems reasonable to want a wardrobe - for hanging garments - and a chest of drawers for my other clothes. I'm sick of rummaging in bags to find the clothes I want.
I have a guest bed. It might seem like a real luxury to have a guest bedroom at all, but what was the point of working so hard for so long, if I'm not able to accomodate guests in my own home? Sure, I could rent a room in a shared house, share a kitchen, share a bathroom... but I spent enough years putting up with other people's disgustingness and inconsiderate behaviour. I think I'm entitled to a place of my own, with some space for friends and my sister to come and stay with me.
I have two sofas and a coffee table. I could probably get along alright with just one sofa but at some point I was going to want a matching pair and there's no guarantee that Ikea would have kept manufacturing the model I bought, so it made sense to buy the second sofa. Also, it does mean I can seat guests without us all having to be cramped onto the one sofa. I don't think it seems particularly profligate to own two sofas.
I managed to live for about 18 months without a microwave, iron, vacuum cleaner and various other domestic items, but it is rather tiresome not having these household basics. Yes, I did manage to survive without those things, but I could hardly be accused of being a spendthrift for purchasing such mundane objects.
In amongst the packaging pile of Mount Cardboard are some large lumps of polystyrene, which protected my washer/dryer during delivery. I'll accept that the dishwasher - which I did not purchase - is a luxury item that I could easily live without, but I refuse to wash my clothes by hand using a washboard and mangle. Using the dryer is horrendously energy inefficient and I have been good at taking advantage of nice weather to hang my washing out to dry, but sometimes it's incredibly nice to fill the machine with dirty laundry, push a button, and then have dry clothes ready to wear some hours later - requiring virtually zero effort.
The sum total amount of money I've spent vastly exceeds what I expected, even though I have bought bottom-of-the-range items most of the time. One must remember that I was starting my life afresh - a clean slate - with virtually no possessions, and the innumerable items which you use in normal daily life shouldn't be underestimated.
I bought items which could be seen as serving a purely decorative purchase, like lamps for my lounge and bedrooms, and shelves for the bathroom. I bought a bath mat and some pillows. I bought a pair of curtains. I bought some little organiser boxes. I even bought a couple of outdoor chairs to sit in the sun and read my book, in the privacy of my own garden. My life would function without these things, or I could make do with what I've got, but there's an intangible value to having a house with some finishing touches which make it feel homely; inviting.
If things should go horribly wrong somehow, with the benefit of hindsight some might criticise me for having set up my home relatively quickly - in under two months - instead of being much more cautious about the rate I have been spending money. I would counteract that argument by saying that this lovely home is my reward for having struggled through the years in shared houses, hostels, sleeping rough, months in hospital and generally unsettled existence which led me to the point of having no furniture, and very little else which is necessary to make a house a home.
It pleases me when I open a cupboard to find that I had the foresight to buy tea and coffee for the benefit of any visitors, because I do not drink tea or coffee myself. It pleases me when I'm able to offer a guest a hot beverage of their choice, with milk and/or sugar too. It might sound laughable, the idea of living a life where I simply wasn't in a position to have friends or my sister stop and visit, but that's what my life has been like - we quickly take our lives for granted and get used to our surroundings.
It will be a relief to take Mount Cardboard to my nearest recycling centre. It will be great to reclaim that space and not have the ugly eyesore, but I do have a final wave of Ikea furniture, which I have delayed for now because I have the bare minimum to be able to comfortably accomodate one guest or a couple. At some point, I would like to be able to have the space to have visitors and their kids too, given that most of my friends have children, and I have a young niece.
To say that having a great big house that's empty most of the time is hugely wasteful is a valid criticism, but this is my reward for working hard and making good sensible choices. This is how I'm making sense of the world, because I was struggling to see the point of being alive, if I was not seeing any benefit from my efforts.
I guess for most ordinary people, they get a "treat" occasionally - they have to spend their meagre income little by little - but I've gotten an entire furnished house suddenly overnight, but that's not really a fair comparison. I assure you that when you have no bed to sleep on at all, getting a bed seems like a necessity, not a treat.
I'm beginning to live very well, and I am grateful; I am happy. I am beginning to feel contented and settled.