This is a story about nurturing...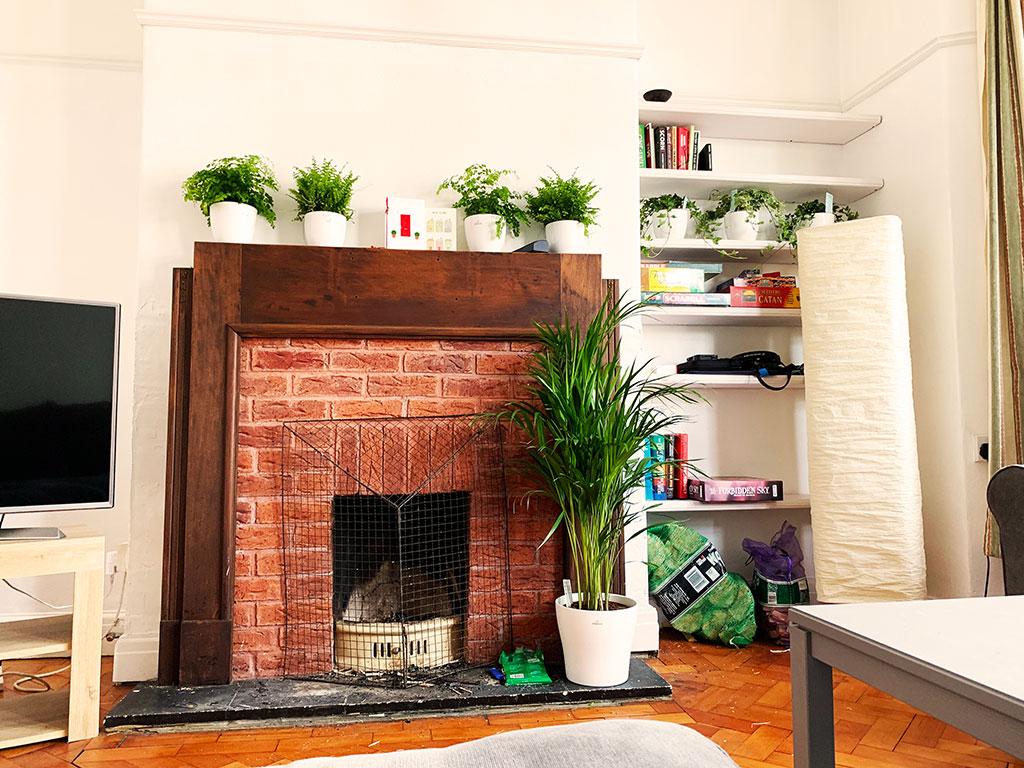 My lounge is a place of contrast. I hate the style of the fireplace, but I love having a log fire. I love the parquet floor but it's completely different from the parquet in the rest of the house. The room is cold, but I wanted this room to be cosy - I spend a lot of time under a blanket, when the fire's not lit. My big sofas are super comfy, but I find all my furniture a little bland and generic; functional and practical. I hate the curtains: they're revolting and need replacing, but I do like to close the curtains and feel like I have good privacy.
Getting some houseplants has transformed how I feel about my lounge. Having some greenery really makes me feel many times happier about this particular room of my house.
The shelves were looking a little bare, as I lost a lot of my books during my divorce and many subsequent house moves. The weight of books that I was lugging around didn't seem to be worth it after I had moved for the millionth time, so the only books I have on my shelves are ones I've recently bought and read, or been lent.
I feel like it's a bit of a crazy idea to start accumulating more and more material possessions, including bulky items like furniture, and delicate things like houseplants, which can't be simply thrown into a box if I needed to put my stuff into storage.
However, I needed to put down some roots. I needed to feel settled and at home somewhere, at long last.
Did I mention I'm getting a kitten?
I've had enough of being young, free and single. I want to be comfortable and content. I want to be settled and secure.
This doesn't mean that I'm in some desperate hurry to find the woman of my dreams, marry her and start a family. I'm just enjoying simple domestic pleasures. I'm enjoying ordinary life. I like loading and unloading the dishwasher. I like doing my laundry. I like buying houseplants and other things to make my house look nice. I like mowing the lawn. I get plenty of novelty and pleasure from pottering around the house. That's not to say that I don't very much enjoy going on lovely dates, eating in amazing restaurants and watching arty movies, but I derive an unusual amount of satisfaction from making my house into a home.
It seems like I'm doing everything all at once: moving to a new city, getting a house, settling in, getting a pet, going on dates. Perhaps it seems like I have an end-goal that I'm rushing towards, like so many people do: either rushing towards having children, rushing towards their retirement and death, or both. I'm pretty content to have things settle down for a while. I really want to savour the next few years - I'm hoping that I can keep things steady and routine, enjoying the pleasure of foreign holidays, mini-breaks and fine dining. It might seem like I'm constantly yearning and striving, but as my quality of life improves, the pace at which I live my life is calming down.
Entering into an exclusive relationship might seem like I'm desperate to move my love-life forwards, but it felt like a very natural part of winding down from my rather frenetic period of activity, and was something I was overjoyed about given how crazy I've been about one particular special somebody.
All the things I'm really pleased about sound really ordinary and mundane, in a way: a slowly developing relationship, a steady working routine, minor home improvements. Getting a kitten sounds exciting, which it is, but I want the kitten to feel settled at home with me, and to become part of my day-to-day existence. I eagerly anticipate feeding the cat and watering the plants, as well as cooking ordinary meals for the object of my affections when she comes to visit; watching movies on TV, curled up on the sofa with the cat.
Have I lost my adventurous side? Of course not. I had a rough time when I lived a chaotic adrenaline-filled life without any structure or routine. I'm managing to gradually restore myself to sustainable health, wealth and prosperity. I'm bound to start doing lots of really exciting things - it's in my nature - but I'm going to be smart and keep my love life, my work life and my home life settled, secure, scheduled and sensible.
Future planned purchase: a watering can and some plant food. That pretty much sums up my attitude to life at the moment.