This is a story about demon drink...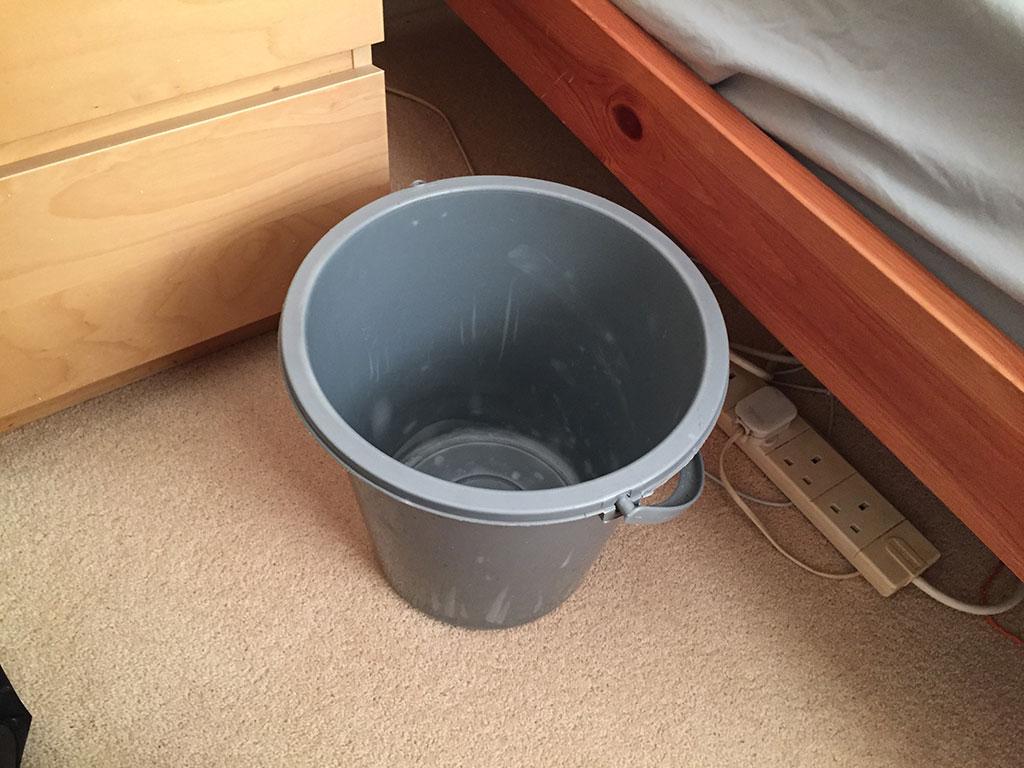 I have placed a ludicrous amount of pressure on myself, having decided that I'm going to create a great reputation for myself by being a major player in a massive important project, for a big organisation. I've been attempting to be all things to all men, and be in all places at one time. I have been attempting to be manyfold times more productive than anybody else, in order to demonstrate beyond all reasonable doubt that I've been a major contributor and driving force behind the success of the project. I've staked my name and reputation on a successful delivery.
How do I sleep at night?
Vodka.
I bought a bottle of vodka on Monday and now it's all gone. I never drink spirits. Except I have done this week. A whole bottle.
I know this is a bad sign.
This is how alcoholism starts.
Alcohol is a terrible coping mechanism. I was very drunk last night, except somehow I wasn't. I carried on drinking even though I wasn't getting any more drunk. I woke up and I was worryingly OK.
I should have been throwing up.
I wasn't.
It's not the drinking that's so much of the worry, it's the getting used to it. When I can neck a bottle of vodka over the course of 3 evenings, and still turn up to work and be productive, then I'm on a collision-course with disaster. Not the kind of disaster where I turn up for work in a dishevelled intoxicated state - that would never happen - but the kind of disaster where I end up dying of liver failure in my 50s, having been an alcoholic for more than a decade.
I think spirits are a step too far. Spirits spell disaster. The hard stuff is dangerous.
It's been shocking, the effect of strong alcoholic drinks - I've not found a limit where I start to feel unwell, and the hangovers are too unbearable, which is very dangerous. I also have failed to find any point where I think "I've had enough" or "I'm adequately drunk". Strange, that I would never reach a point where intoxication becomes unpleasant; aversive. That's worrying.
So. No more spirits. No more vodka. I need to stop that particular stupid idea immediately.
I do have an enormous amount of stress, which is reaching its peak. The deadline is almost here. The end is nigh.
I'm not sure how my colleagues in other teams are coping. I'm not sure how people who have a lot of responsibility, professional pride and reputation at stake, are coping right now. One colleague who's worked at the same organisations that I have - notably JPMorgan and HSBC - alluded to having a similar hard-drinking predilection. Alcoholism is ubiquitous in the Square Mile. Alcoholism is notorious in banking. I've lost numerous friends and colleagues to alcoholism, from that world. It was practically a rite of passage to end up in The Priory, all paid for by JPMorgan or whoever, in order to dry out and then come back to work.
It's ridiculously demanding work, delivering huge IT projects for gigantic organisations. The alcohol goes hand-in-hand with the project work, because otherwise people's blood pressure would be too high and the stress would be unbearable. Work hard, play hard. It's all good fun, until somebody dies 10 or 15 years later from alcohol-related illness.
I've been patting myself on the back, but nobody's really officially recognised my contribution, as yet. Why should they? So many people are working hard. So many people are involved. So many people are stressed and under pressure. Why should anybody single me out as special, in particular?
I veer between feeling confident and pleased with the project I've been involved in, and feeling that there's something really fundamentally wrong which is going to ruin things. Some nights I go to sleep content, and wake up excited to improve things. Some nights I can hardly sleep with worrying about an unresolved problem, and I wake up with anxiety, not knowing whether I'll resolve the problems satisfactorily.
Taking the edge off every night, self-medicating for my insomnia and anxiety, I have been drinking far too much. I drank bucketloads over the weekend. This week has been ridiculous for alcohol consumption. It's terrible.
This whole period is terrible for my health. The pressure is relentless. The workload is relentless. The demands I place upon myself to perform and excel are huge; I'm so determined to achieve something great, to prove to myself that I'm still a talented and capable engineer, who can deliver huge projects on time with high quality.
I keep telling myself that I need to keep pushing myself, just a little longer. The finish line is in sight. Not long now.