This is a story about daily chores...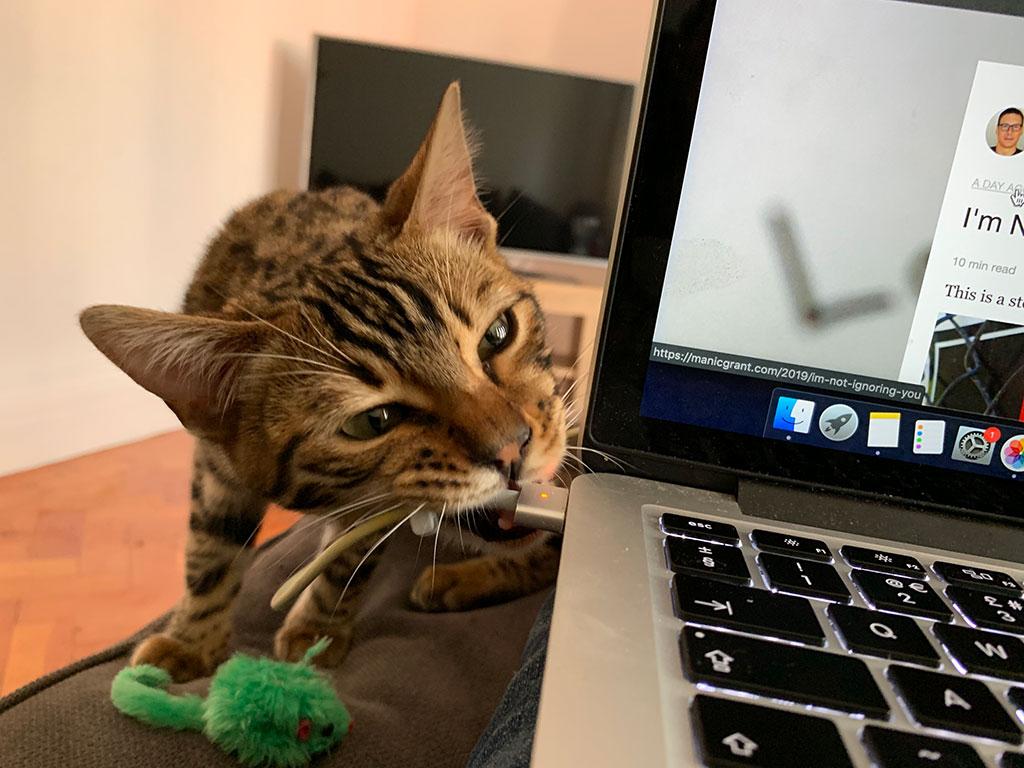 I spend most of my leisure time stopping my kitten from destroying everything that's made of paper and cardboard, wrecking my house plants, attempting to go up the chimney, getting her paws in the soot and ash of my fireplace, peeing on clothes, chewing cables, licking plates and dropping her toy mouse into drinks. It certainly keeps me busy.
My other daily chore, aside from scooping poops out of the 4 litter trays around the house and washing cat-pee soaked clothing and bedding, is my writing. I'm going to attempt to resume writing every day.
The past couple of days I've written far too much.
I needed to write to let friends around the world know that I'm OK. I wanted to also mention the people who've popped up in my website analytics who appear to be work colleagues from a couple of different locations and organisations in the UK, and also my girlfriend's mum, in case they pop back for a repeat visit... wouldn't want to disappoint. I also simply wanted to resume writing on a daily basis.
The good thing about writing lots is that it makes me a moving target: very hard to shoot down.
I'm not going to write much today because I need to get better at writing less. I need to deliver short and sweet little blog posts, not the miserable long essays which exhaust my readers. Even I feel quite embarrassed about the self-indulgence of writing 4,000 words moaning about anxiety and depression, and generally complaining about my lot in life.
Tomorrow I might share some holiday photos, but I'm just trying to settle back into my routine. I thought I would allow a little of the pent-up stuff that was rattling around inside my brain to flow out of me, releasing some pressure and allowing me to consider my situation with a bit more perspective.
I wasn't dreading writing. I was a bit sad that I'd had a three-week gap, but I didn't feel like abandoning the project, although I was quite stressed and anxious that I'd left it too long and I'd struggle to get back into it. I was dreading going back to work, but that's for reasons which I've already gone into at length.
My good intentions have gone to waste regarding resumption of healthy living. I had planned on dieting and being teetotal since returning from holiday, but that hasn't really happened yet.
I don't think I'm going to be able to achieve everything I wanted to achieve within the ambitious timescales I wanted to, but I do feel somewhat rested and that I've had the benefit of a break. I feel like I have more energy and I'm in a much better situation than I was a couple of months ago.
My contract at work might get extended for a couple of months, which brings in much needed cash. Home life is pretty settled and secure - I have a nice house and I love my kitten. My relationship is going well. There's nothing on fire or threatening to cause major problems at the moment. I have the opportunity to enjoy a period of some stable, secure, routine simple living, without too much stress. I can do my writing every day after work. I have my daily routines and systems, and that's the way I like things, in order to manage stress levels down to the point of being tolerable.
I've written more than intended, as usual, but I'm below my maximum word count, which I have been very poor at respecting the past couple of days. I hope I can consistently keep my word count below my maximum, and hone the skill of writing short and sweet little blog posts every day. It takes discipline though.
Tags: #writing