This is a story about being a nerd...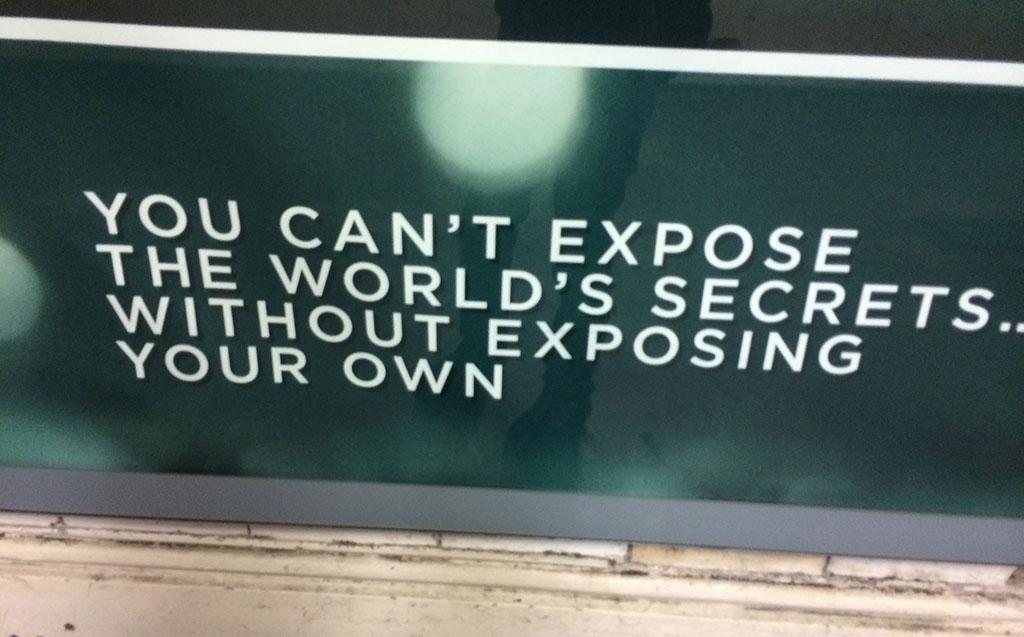 I suppose that I forget that I live my life as an almost completely open book; that I have this million-word repository of all my deepest darkest thoughts, thoroughly documenting every unflattering detail about me. I suppose I forget that it's not normal to live life with so little privacy and secrecy.
I try to be considerate of other people's normal attitudes towards privacy, confidentiality and discretion, but my own attitude - that I'll write about and publish all the gory details of my life in public - is so extreme that I can misjudge how uncomfortable it can make people feel, that there's a certain amount of information which exists about them in the public domain, but there's a tacit agreement that to look at that data would be a bit stalker-ish.
We might choose to have an Instagram account where we put up photographs of all our happiest moments. We might choose to have a Facebook account where we share things which tell the world what our values are. We might choose to have a LinkedIn account, where we present our professional persona for the purposes of getting a job or finding clients. We might have a website where we sell our services.
In the UK, company directors, shareholders with significant stakes in public companies, homeowners, criminals and other people will have their names and other details recorded by places like Companies House, the Land Registry and the courts, such that any member of the public who wants to do a bit of digging can find things out... things that might make us uncomfortable if anybody went digging in the archives.
I'm becoming increasingly easy to find - a quick Google search or a search of Twitter will quickly yield this website - and I suppose it's an illustration of how unusual it is for somebody to write and publish so candidly, so many unflattering things about themselves, that few colleagues and love interests have bothered to try to find me, because they must surely presume that they wouldn't find anything more interesting than a Facebook profile or a dull Twitter page with lots of retweets. Equally, perhaps it's very British to be a reserved and private person, and equally to keep our noses out of other people's business.
My day job involves gathering a lot of very private and confidential data from vast numbers of people, and keeping it safe, there is still a great deal of responsibility on my shoulders to not abuse my powers. I've worked for very many organisations, which have entrusted me with the power to go digging in the databases, if I was determined to do so. I suppose I think of publicly available data as having been made public for a reason, but in truth, unless you're a technology professional you're probably not particularly aware of how much you might inadvertently be sharing with the world.
I guess the lesson I haven't learned is a simple one: don't look.
It's strange that the guardians of such vast amounts of very sensitive compromising personal data are the nerds who some consider to be almost sub-human. Some of us love to laugh at the involuntarily celibate (InCel) men who are so incredibly gifted in the field of technology, data and the internet, but completely feckless in the world of dating and girls. How desperately the InCels would like to get a girlfriend and have sex, but instead they lurk in dark bedrooms, running the entire internet. How ironic that the InCels should know better than anybody else, just how much casual sex everybody but them is managing to get. How ironic that the InCels who are told that they're creepy and gross, also see that some men receive very different treatment: what's creepy and gross for a nerd - unwanted attention - is quite welcome and encouraged if you're a Chad, to use the InCel terminology for a hypothetical handsome man.
I don't know whether to think of myself of one of those creepy nerds, or whether to think of myself more as a Chad. The internet is my window into the world, and I probably put my tech skills to misuse when curiosity gets the better of me. I freely admit that I struggle to resist the temptation to see what's out there on on the internet, relating to a girl who I'm very attracted to... which is not good behaviour, I think.
Admitting to having Google'd somebody seemed harmless enough, I thought; perhaps even funny. I thought that it would be a bit embarrassing for me that I was curious and went and took a look, but it turns out that it can make the person who got Google'd very uncomfortable.
I live my life with this vast trove of unflattering things about me, publicly available, but I have written repeatedly about the difficult feelings I have when dating, being so exposed. I guess it would make me very defensive and feel very exposed, to know that somebody who I had a romantic interest in was reading this, and judging me. I'm a very difficult person to judge from my public persona, because I've written and published so much. I always worry that a person would quickly get bored of reading, and then form a judgement based on the particular chapter of my life they walked in on, rather than seeing the big picture.
Anyway, I probably shouldn't write about this, because it's also crossing another line, but I very nearly caused the calamitous end of a very pleasant evening, because of my own curiosity and propensity to be very honest and open: Admitting that I'd been doing what was interpreted as cyber-stalking was not a good look. It was a big mistake. I thought it'd be funny that I'm such a nerdy weirdo and so insecure, that I did a bit of Google'ing, which was harmless in my mind, but it turned out to make the person very uncomfortable, and I very much regret it.
I can't say much more, because I do have certain rules about what I'll write about and what I won't, in order to preserve some of the privacy of relationships I have with friends, and my dating escapades.
Anyway, turns out I can be a bit of a creepy stalker weirdo, but it also turns out that I'm enough of a Chad to get away with it, although I do regret what I did and I won't do it again.
Tags: #privacy #socialmedia #writing