This is a story about my fur baby...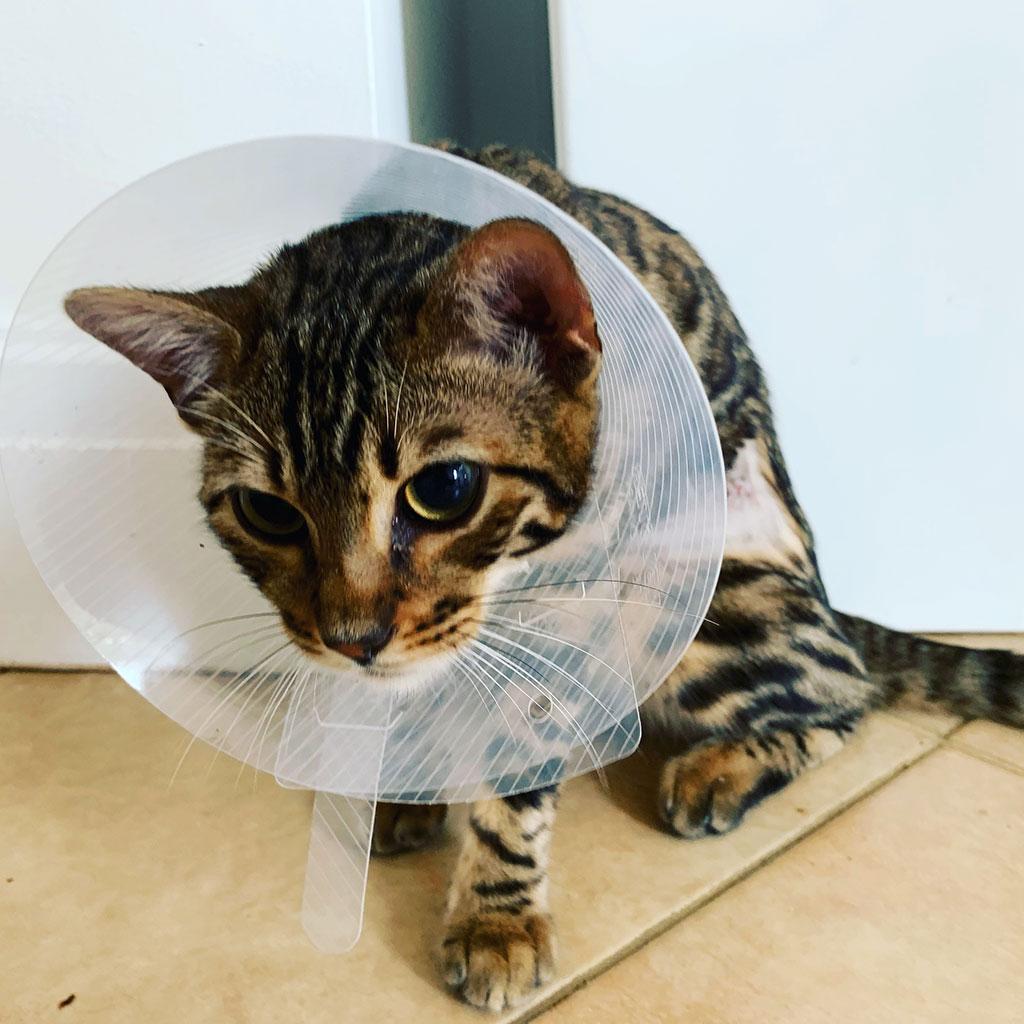 My job is incredibly intense at the moment and I'm at risk of becoming excessively obsessive, but when I see my cat's cute face greeting me when I get home from the office, I'm able to switch off and relax a little. There are things which are causing me a lot of stress at the moment, like an uncertain financial and housing situation, but it's all a little easier to bear in the company of my lovely cat.
I wondered whether I had made a big mistake, getting a very intelligent breed of cat, because her personality is so different to the moggy I had before. Repeatedly wetting the bed as well as being relentlessly hyperactive, I felt that I was getting far more of the downsides of pet ownership, with only a very limited amount of upsides: it seemed very rare that she wanted to sit and be stroked. I wondered whether I had taken on a bigger responsibility than I had expected - and been used to in the past with cats - with none of the rewards that I was used to from my previous cat.
She is very annoying.
However, I have gotten used to how annoying she is. Now I have begun to enjoy her character.
At least once a night, she will have a manic episode where she will decide that she's going to attack me. For a period of 15 minutes to an hour, she will attack my hands, arms, feet or indeed anything that she fancies, such as my legs, knees, or simply my torso. She will bite, scratch and kick me. She will jump on me and wind me. However, it's all rough play and she doesn't mean to hurt me, although she does draw blood. If I want her to stop, she does... but not for long.
Multiple times per day she will attack my houseplants and other fragile things, such as some tall lamps which have paper shades, now utterly destroyed. She does not attack these things when I'm not around. Not wanting to anthropomorphise, but she wants to provoke me: she annoys me for her own amusement. It's a game to her. It used to stress me out but now it's become kind of funny... since I've accepted that I can't have nice things anymore and I've given up being precious about my stuff.
She wants to be with my, wherever I am. It's very nice having a little shadow, following me around. She meows and I meow back. Sometimes she wanders off and then feels lonely, so she meows and then comes rushing to find me when she hears me. She's a very sociable animal.
Since she's been wearing her cone she's not been able to scratch behind her ears, which is something she gets me to do for her. She has an insatiable appetite for behind-the-ears scratching.
Once or twice a day she will have a period where she is desperate to be stroked, and she will force her head into my hand, whatever I'm doing. Typing becomes impossible. Resting comfortably becomes impossible. Sleep becomes impossible. If I sit or lie on my hands, she will burrow furiously in order to push her head repeatedly into my hand, urging me to stroke her. It's so adorable and impossible to ignore.
She has started to enjoy sitting on my lap, or otherwise lying peacefully in contact with me. She has started to have some calmer periods, which are of course blissful.
Stroking her is immensely stress relieving. She also seems to know when I'm unhappy, and she cheers me up a lot. I think she's responsible for helping me to avoid complete capitulation during some recent stressful events.
In short: I'm really pleased I got her and I'm so happy she's part of my life.