This is a story about not watching TV...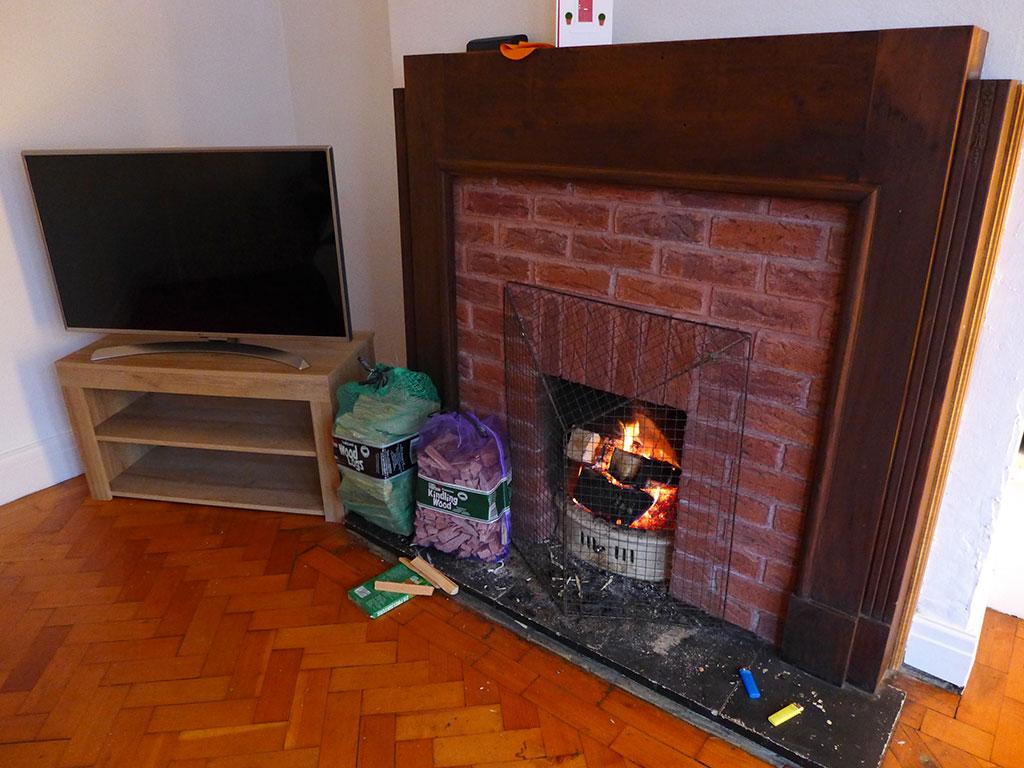 As I drove home this evening, the heavens opened and Cardiff was pelted with bucketloads of rain and hail, which was a heavy enough downpour to completely drench anybody unfortunate enough to be caught outdoors. I drove past bus stops where people huddled for shelter. I saw cyclists who had decided to resort to pushing their bicycles, given the treacherous conditions on the roads.
It's very unusual for me to feel enthusiastic about doing anything which deviates from my strict routine, but the bad weather inspired me to re-stock on my supply of logs for the fire. The thought of warming my cockles in my cosy lounge, watching the flickering flames in the inglenook, was adequate inspiration for me to find the nearest petrol station selling firewood.
When I got home it was still raining very heavily, and as I reached the landing on the first floor a large droplet of water hit my head. I looked up and there was clearly a water leak. I climbed the second flight of stairs to the second floor, and there was a sizeable part of the ceiling destroyed by a leak in the roof - water is getting into my house, and trickling down through two floors, causing unsightly damage.
I suppose it doesn't bother me that much, given that the leak doesn't really affect any of the areas where I spend most of my time: the kitchen, bathroom, master bedroom and living room are all dry, and I never venture up to the top floor of my house anyway.
Nothing could derail my excitement about having a fire. It's not very cold, but there's nothing so nice as having the crackling of a log fire - and the pleasure of watching the flames - when it's miserable weather outside. Having fires is such a treat, having spent so many years living in modernised apartment in central London. There is nothing quite so homely and comforting as being curled up under a blanket on the sofa, being warmed by a fire.
My routine would bore most ordinary people. The life I'm trying to lead is pure simplicity. I have a chaise-longue sofa where I can recline, toasty warm under my fluffy woollen blanket, and with a roaring log fire at my feet. I can draw the curtains and turn on the lamps which give the room a cosy glow, and I cocooned into my home almost as nicely as being in bed under the duvet. It might seem as if I'm old before my time, but it's so deliciously lovely to be warm and cosy all the time.
I never seem to turn the TV on. Why would I bother? I have enough entertainment watching the flames lick around the logs, and I'm pretty content with a very mundane domesticated existence. I potter to the kitchen to prepare myself some food and I'm thrilled that I'm lucky enough to live somewhere which vastly exceeds my needs. The high ceilings and the sheer size of the rooms seems decadent, but I refuse to feel guilty about it. There's a great deal of pleasure I take every single morning and every single evening, when I step into my hallway which is flooded with light from the beautiful leaded-glass window panes. The architecture of the houses in Cardiff is delightful and it's a source of constant joy that I have the financial means to enjoy a large beautiful house all to myself.
It seems a little crazy to enjoy being at home so much. Perhaps I should be out trying to meet people, but it's taken a lot of hard work to restore stability to my life and to my living arrangements, and put myself into a position where I can see that I will be able to live, work, socialise, have a relationship, enjoy culture, eat good food and generally embed myself into this city which is still so new and alien to me, but is incredibly welcoming.
London might not have worked out for me in the end - I was forced to leave - but perhaps it's for the best. I never imagined that I'd be living in a giant house with two working fireplaces, near to a beautiful park and a lake. In London terms, it's equivalent to being able to live near the Serpentine and Hyde Park, in a grand town house, which is the exclusive preserve of multimillionaires. In some ways, I feel like a lottery winner, except I'm not able to quit my day job and escape the rat race, although I very much get to enjoy an exceptional standard of living.
I'm burning money - the waste is staggering - but it feels like it's worth it, because of the almost indescribable pleasure of coming home and lighting a fire, then spending the rest of my evening tending to it... tossing more logs on and keeping the flames flickering for my own entertainment. Honestly, it's better than TV.