This is a story about lost causes...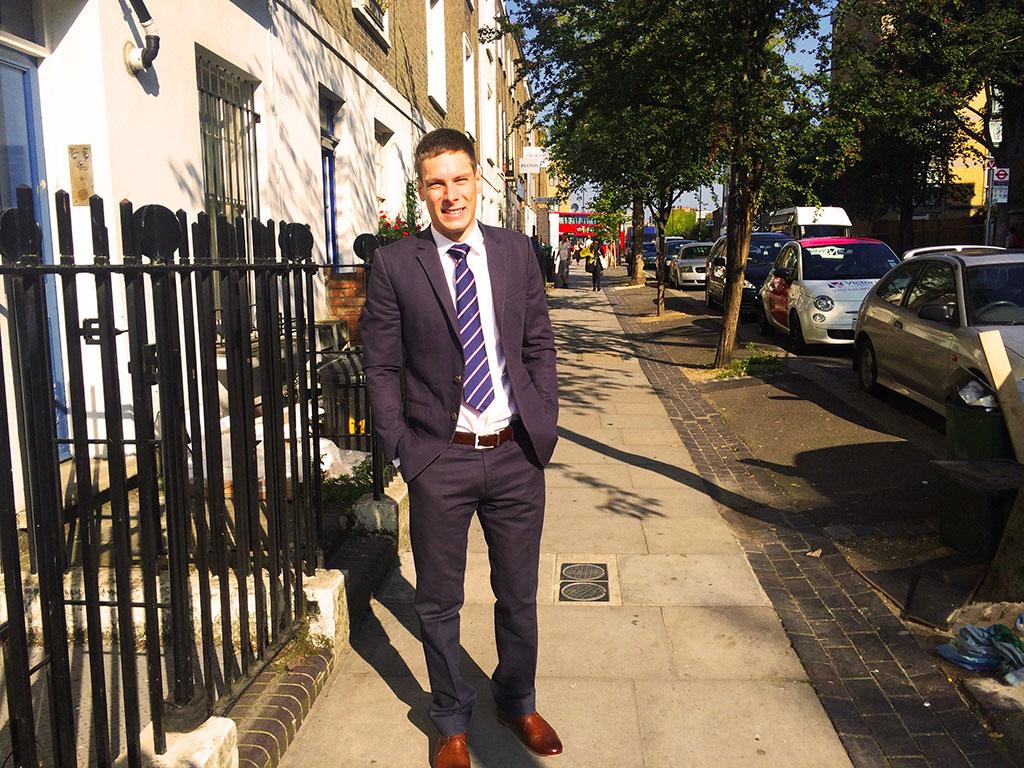 Look at that well-presented man: a professional on his way to work for Barclays at their head office in Canary Wharf as an IT consultant earning £600 a day. Look the attractive Georgian façades of the London townhouses of Camden, where he lives. The major high-street bank he works for has conducted extensive background checks on him and found him to be a fine upstanding member of the community: a model citizen.
Look again.
What you are actually looking at is a homeless man. That's right. This man is no-fixed-abode. This man lives in a hostel with other homeless people. This man was sleeping rough until very recently.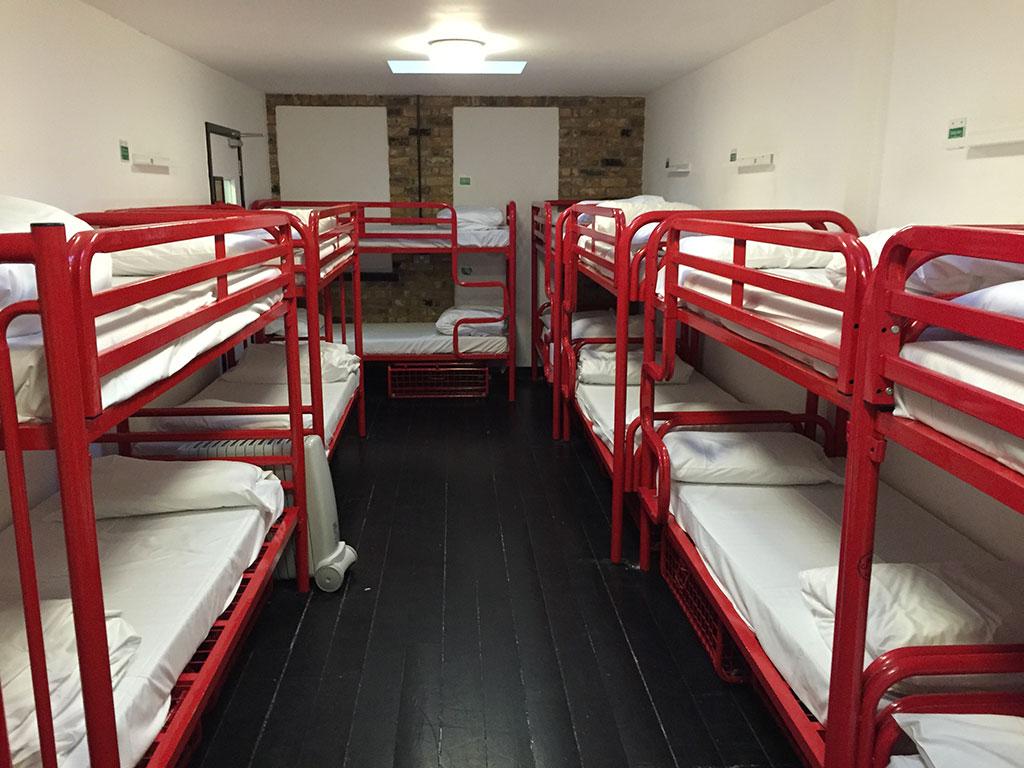 Look at this hostel dorm. It's got brand new beds and clean linen. It's empty. This looks like a pretty nice hostel dorm, doesn't it? Perhaps you wouldn't mind sleeping here. This would be tolerable for a while, perhaps if you were backpacking, wouldn't it?
Look again.
What you are actually looking at is a hostel dorm I stayed in when I was travelling - for leisure purposes - and the people who stay at this hostel are wealthy backpackers. This is not the hostel I stayed in when I was homeless. When I was homeless I stayed in hostel dorms that were full of drug addicts, alcoholics, people with severe mental health problems, thieves, violence, sexual assault, and they were exceptionally dirty and disgusting. The hostels I stayed in when I was homeless were full of everybody's crappy possessions which we carried around with us - we didn't live out of small backpacks, because we were homeless. When you're homeless you carry everything you possibly can: all your possessions. Try to imagine 14 people in a single room along with every single thing that they own. Try to imagine that's where you live - you're not just having a jolly old time doing some backpacking. That's WHERE YOU LIVE and you have to go to work, in the midst of all that chaotic s**t.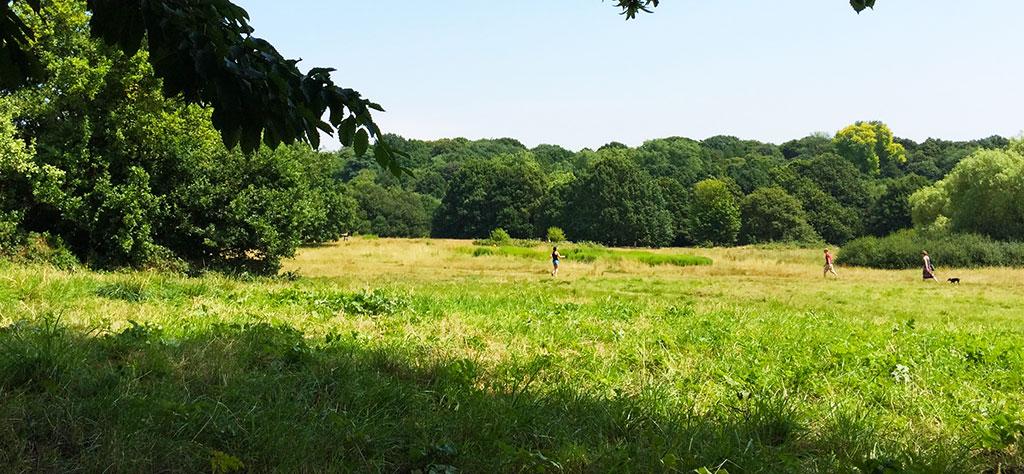 That's a nice view isn't it? That's Hampstead Heath. It's a nice place to walk your dog or go for a run. It's a nice place for a picnic. Hampstead Heath is a lovely place to go when the sun's shining. Perhaps you'd like to take a swim in one of the bathing ponds?
Look again.
What you are actually looking at is near the spot where I slept rough, to avoid being robbed, beaten up and/or raped. What you are actually looking at is a place where a homeless person can hide themselves in the undergrowth at night and avoid the perils of sleeping rough. What you are looking at is where I slept for a couple of months. Guess what? It's not always sunny. Sometimes it rains. When it rains you get wet. Very wet. A tent is conspicuous. It's hard to sleep rough, stay dry and avoid becoming a victim of crime when you're so vulnerable. Try to imagine not having a proper bed or any kind of security for you and your stuff - you're totally out in the open, in a remote area.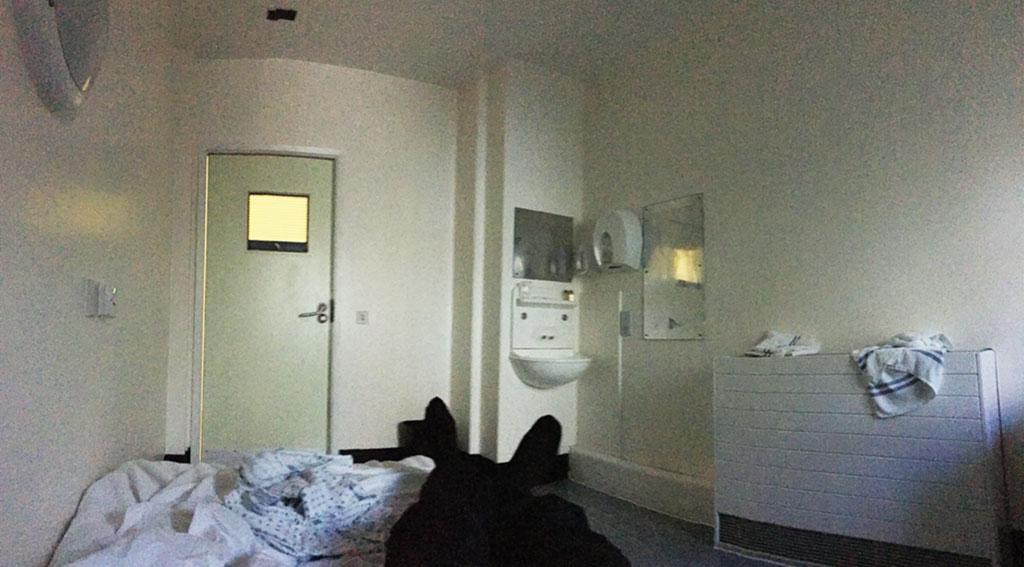 What's this? Is it a prison cell? I haven't been in a prison cell, but this definitely looks a bit like a prison cell to me. There's a window so that people can look into the room, which clearly has a bed, so this must be a place where I slept. What kind of place has windows in the doors so that people can see in when you're sleeping? That doesn't sound great for privacy, does it?
Look again.
What you are looking at is a room in a secure psychiatric ward. The window is there so that the staff can check you're not attempting to kill yourself. The staff check on you every 15 minutes. At night they sometimes come into your room and shine a torch in your face. You can't have a belt, shoelaces, scissors, razor, cables (e.g. mobile phone) or anything else that you could cut yourself with, or strangle yourself with. You can't lock the door to the shower room or the toilet.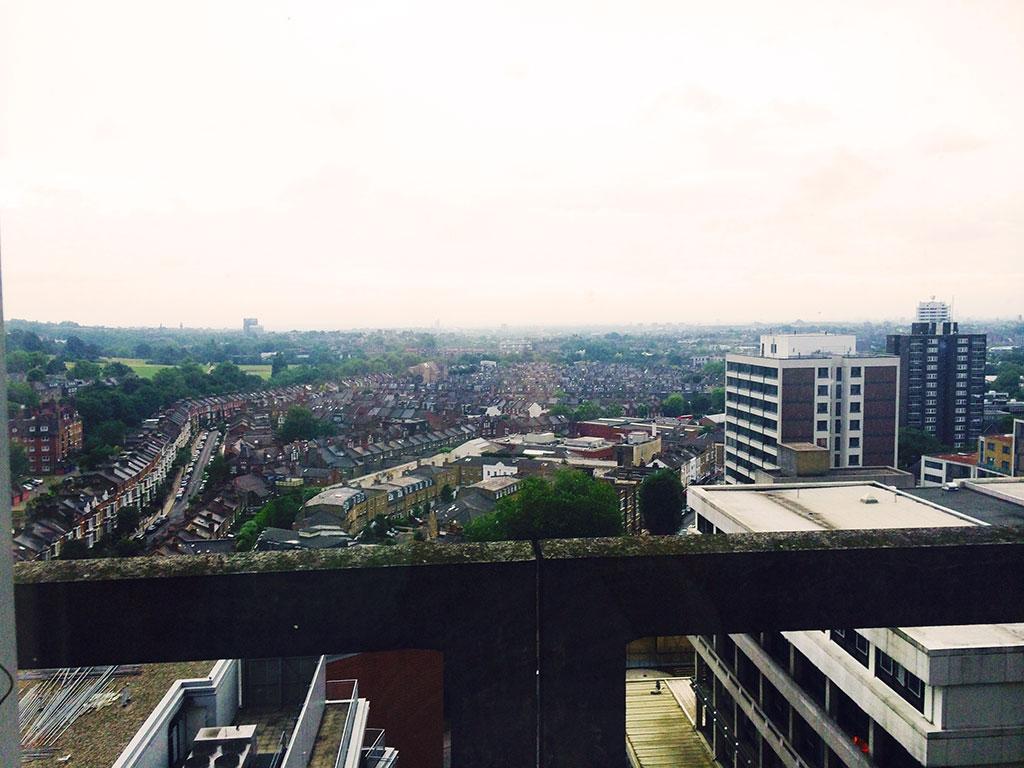 Oh look! There's a view of Hampstead from a tall building. Perhaps we could see the heath from here. This is quite a nice view, except it's kind of in the wrong direction to see any London landmarks. Perhaps this this is the view from an ugly brutalist concrete monstrosity which has now perversely become a desirable place to live as the capital city's property prices have soared.
Look again.
This is the view from the Royal Free Hospital. The emergency services brought me here. I was nearly dead. I was here a long time, while the medical team fought to save my life.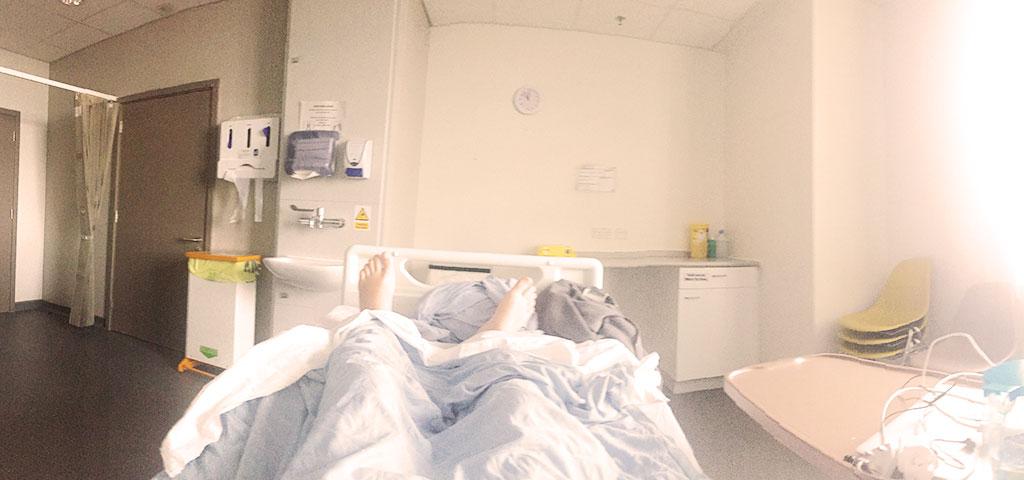 That's a pretty nice room for an NHS hospital. It's a private room. I must have some pretty good private medical insurance. Perhaps I've come to hospital for an elective cosmetic procedure. This certainly doesn't look like the kind of place where a sick patient would be looked after - it's more like the kind of recovery room that somebody with private healthcare would receive.
Look again.
This is the room at The Royal London which was dedicated to my treatment because my kidneys had failed due to a horrific DVT and I was receiving emergency dialysis for many many hours a day. To my left, out of shot, is a dedicated dialysis machine which I was connected to for day after day. I couldn't have dialysis in the main dialysis ward because my blood was so full of potassium that I was at risk of having a cardiac arrest at any moment. My blood was so toxic that many of the measurements were beyond the capability of the equipment to actually measure how toxic my blood was. I was very sick indeed.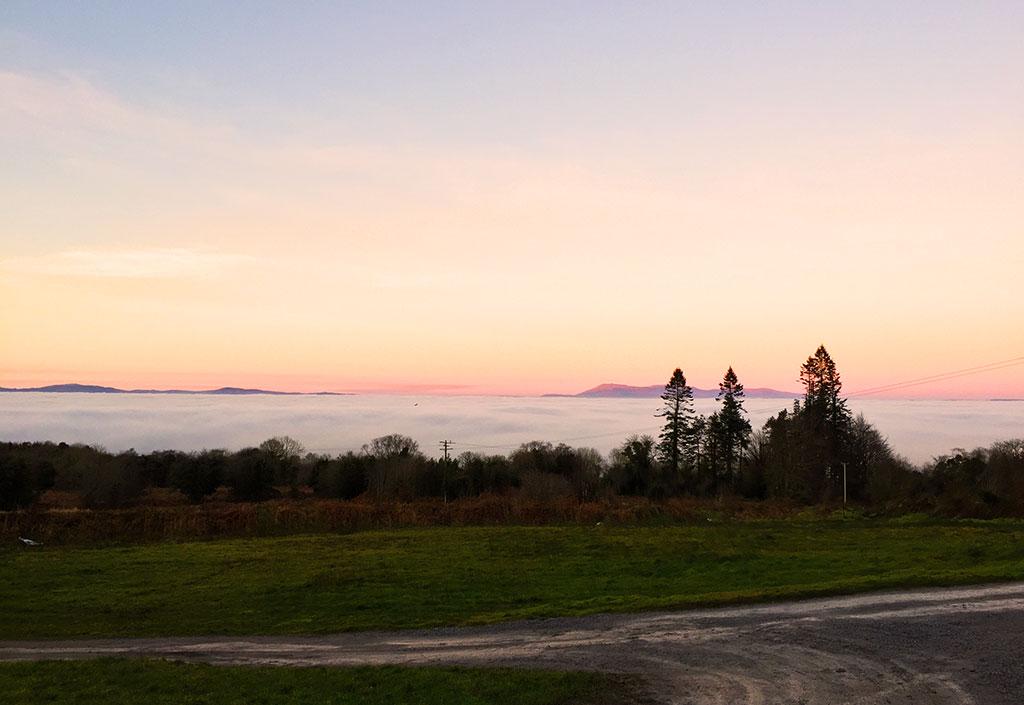 Aha! This must be another trick. That pleasant view of a valley filled with low-lying fog, and mountain tops poking out, in pleasant rural surroundings must hide a darker secret. Why don't I just tell you the terrible truth?
Look again.
This is actually a good moment in my life. One of my friends had invited me to stay with his family in Ireland. I was half-dead so the opportunity for some rest and recuperation in rural Ireland was exactly what I needed. I meant to stay only for a short while, but ended up staying longer because I was very poorly and needed looking after, which is exactly what the kind family who took me in did: they nursed me back to health.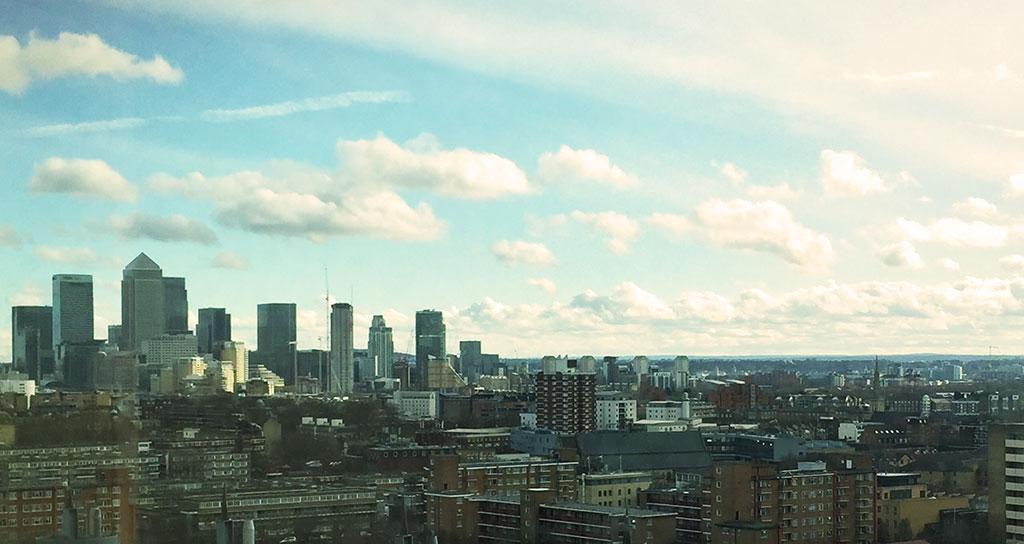 Ooooh skyscrapers! We know from the first photograph that I worked in one of those skyscrapers. I also used to live in Canary Wharf and it's actually possible to see my apartment from this picture. I was also working for Lloyds Banking Group at this time, so this must be another good picture, right? Why would I be able to see my apartment and the head office of the bank I was working for though? Where the hell am I?
Look again.
I didn't show you the view out of the window from the private hospital room, did I? This is the view. I didn't really get to see the view much, because I was constantly hooked up to a dialysis machine which was sucking my blood out of me and squirting it back into me, but I did manage to take this photograph. All I can say that's positive about this period of my life is that I didn't die: I was saved [again] by a brilliant NHS medical team.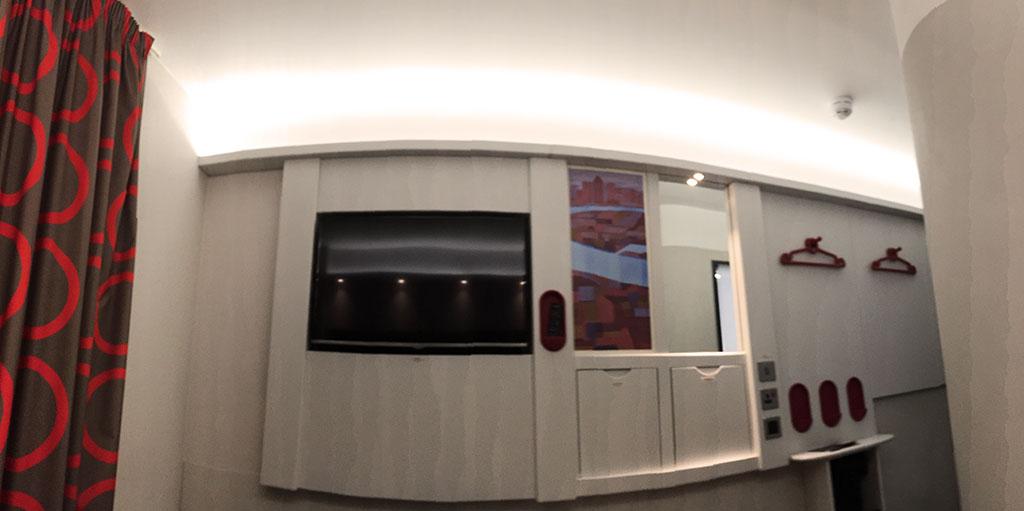 What now? A hotel room? Not too different from the psych ward room, but with a TV and better lighting. I was living here while working as an IT consultant for HSBC on their number one project, earning £600 a day. Sounds like my life was going pretty well, huh?
Look again.
What have I shown you so far? Homeless people's hostels, sleeping rough, hospitals. I showed you one picture when things were a little better - I was being looked after by my friend and his family - and my life was not in imminent danger. My life is not in peril at this moment, it's true, but I'm clearly staying in a hotel room for a reason. The reason is that I'm homeless. That's the theme of this story: homelessness.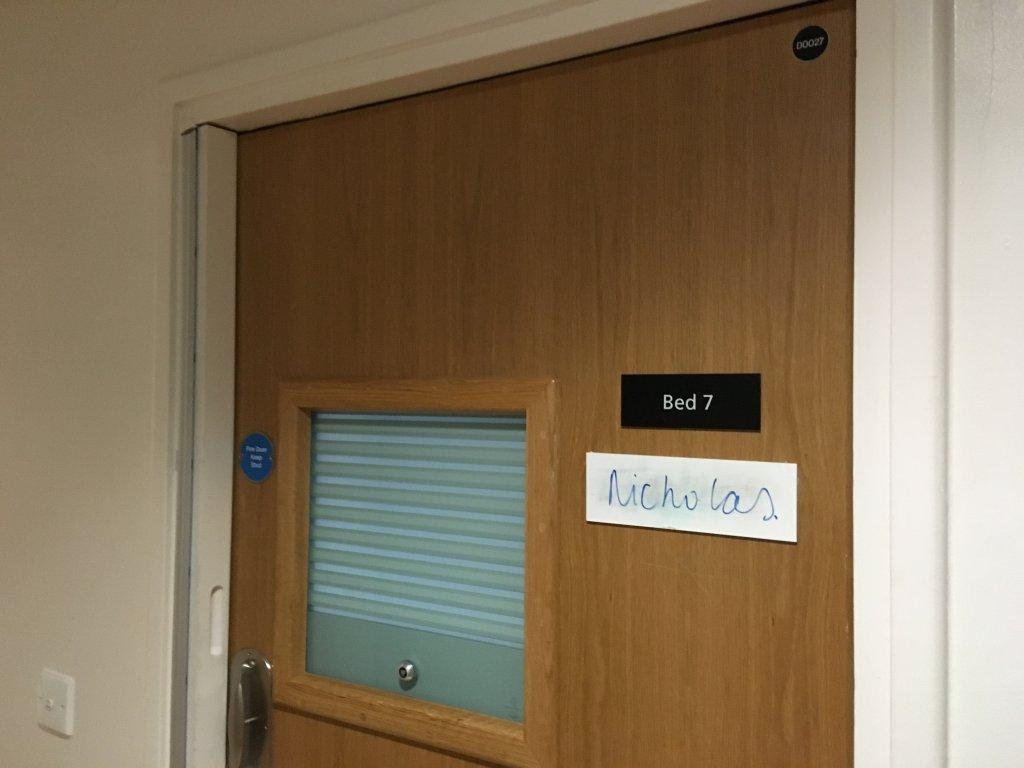 This must be the door to the room that I showed you in the secure psychiatric ward. Somebody's written my name on a little whiteboard strip. That was thoughtful of them. Also, making sure that I'm not killing myself, by checking on me every 15 minutes is pretty damn caring. I'm pretty lucky to have this room all to myself and caring staff members to make sure I stay alive.
Look again.
This is not the same room. This is not the same psychiatric ward. This is not the same hospital. This is not the same city. In the first photograph, I had voluntarily gone to hospital because I couldn't keep myself safe. At the time this photograph was taken I have been sectioned and am being held against my will. At the time the first photograph was taken - in London - I could leave whenever I wanted. At the time this photograph was taken - in Manchester - I cannot leave, which is kind of like being in prison: involuntary internment. I was being held in a psychiatric intensive care unit (PICU) which is where the very most unwell psychiatric patients are held, and this type of unit is highly secure and can only care for 8 patients with a vast number of staff.
Why would I end with this photo?
I was asked to write down in detail where I had been living for the last 5 years of my life, for the purposes of government security vetting, which is a highly invasive process which will rake over every detail of my private life: my divorce, my psychiatric problems, my homelessness, the involvement of the emergency services. The government has access to every single piece of data about me held on every single database, and they are permitted to look at things - like private and confidential medical records - which nobody else is allowed to look at or even ask about, by law.
Why would I publish this?
Do you remember the photograph of the hotel room? That's where I started writing this blog, approximately 4 years ago. I've written 1.2 million words. I've thoroughly documented my life with the kind of candid honesty that the government expect from me when they ask questions like "where have you been living during the last 5 years?". The answer is far more complicated than could be filled in on their forms, so they can read about every detail which doesn't neatly fit into any of their computer systems. I could have asked for extra paper to complete my security vetting forms, but how many pages should I ask for if there are 1.2 million words written down right here and the story is not even fully told?
I chose that final photo because I shouldn't have been alive to take it.
On Saturday 9th September 2017 I attempted to end my life. My suicide attempt should have been successful. Even though I didn't die as quickly as I should have done, and even though the emergency services were able to intervene rapidly, when I believed that nobody knew where I lived or would be able to locate me, I was still having seizures and multiple organ failure. I was unable to breathe on my own. I was very much going to succeed in killing myself, which is exactly what I wanted. I had planned and executed my suicide attempt with precision.
Now, today, I am making an exceptional contribution to one of the government's highest profile projects - the number one project for the particular government organisation who I work for. I have been singled out for special commendation on multiple occasions by very senior government employees. I have worked incredibly hard to make the biggest possible contribution as part of a gigantic team of colleagues. I have busted my balls to go above-and-beyond and exceed all expectations. I have put an enormous amount of effort into delivering valuable skill, expertise, knowledge, effort and energy. I would expect that a significant number of my colleagues would speak very highly of me. In fact, I know that I am held in very high regard.
Also, during the last 5 years, I've slept rough, slept in homeless hostels, slept in hospitals and slept in psych wards. The sum total of the amount of months that I've spent in such places is very significant, but somehow it was hard to articulate this on a security vetting form that's not designed for somebody like me.
Either you believe I'm exceptional or you don't. If you think I'm an exceptional person, you have to decide whether that's a good thing or a bad thing. What cannot be disputed is my contribution to the teams, organisations and wider society, despite the great adversity I've faced.
Here is some of the information that couldn't be captured on a government security vetting form. Judge me however you want - end my career if you must. What you must understand is that I am not afraid, because I have already died a thousand deaths, so I do not fear one more.
Tags: #homeless