This is a story about the perception of time...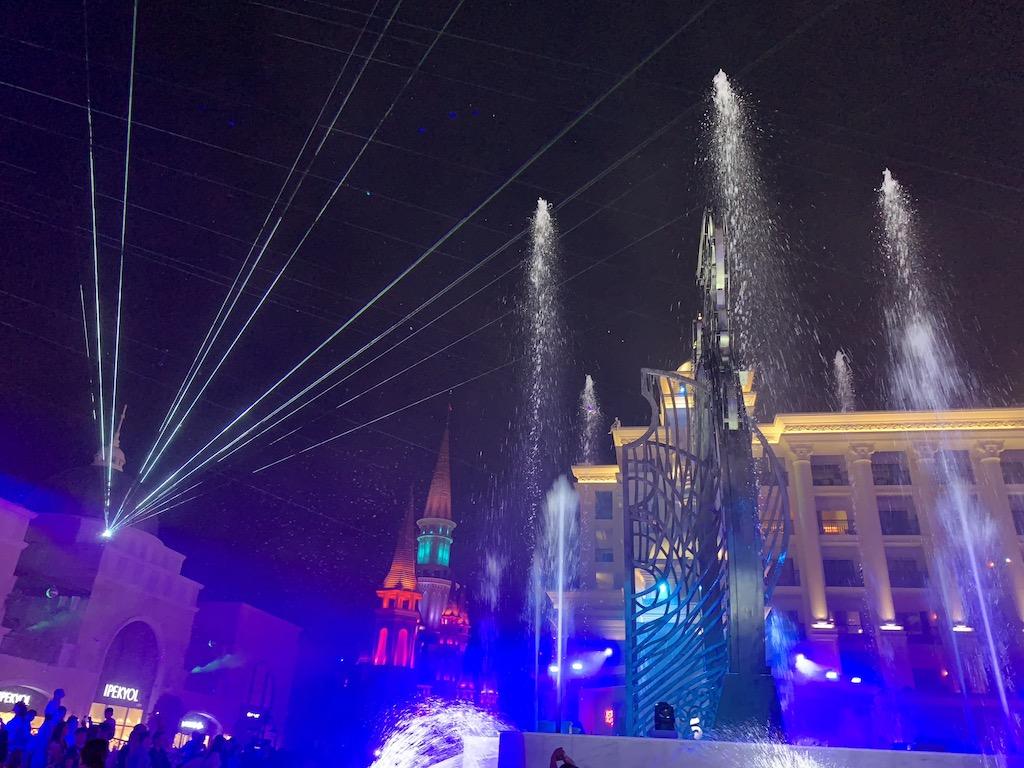 Smoke machines, lasers, fountains, stage lights, people in costumes, animatronics and a powerful public address soundsystem combine to create quite a spectacle, for evening entertainment in Turkish Disneyworld. There are lots of magical, surprising and delightful moments in this theme-park, with adjoining hotel, and there's lots to do. Time has passed quite weirdly slowly though.
It struck me that I won't ever relax and enjoy myself, because I'm extremely paranoid that something's going to go wrong and my paint-by-numbers simple plan to restore my life to debt-free, health, wealth and prosperity, is going to be ruined by something unexpected.
I suppose people who have borrowed heavily against their future predicted earnings, so that they could buy a house and a car, have resigned themselves to sleepless nights worrying about losing their job and being unable to make repayments, rapidly causing their entire comfortable existence to crumble and be irreparably destroyed by reposessions, bailiffs and a bad credit score. If you go bankrupt you won't be able to rent a place to live or get a good job, because of credit checks and general employment contract exclusions, discriminating against former bankrupts.
If you imagine that there's a safety net there to catch you, you're naïve. Every property you might hope to rent is not only barred to bankrupts, but also to anybody receiving housing benefit. "NO DSS" every single advert for every single property on the market, quite clearly states. Capitalism and banking are closing ranks, creating an system that goes beyond that of a hostile environment to actively create vast numbers of homeless, unemployable, economic lepers who can't get back into civilised society no matter how hard they try.
Legislation which addresses the rehabilitation of former offenders, is quite strict about who is and isn't allowed to know a person's criminal record. The system of credit checks and your credit file is firmly in the civil sector. The use of credit data is extensively used to discriminate against people. Those who are in receipt of state welfare benefits are discriminated against, wherever that data is available to the rentier class.
We are increasingly corralled into minimum-wage zero-hours contract McJobs, with zero security and insufficient pay to afford a basic standard of living, where every letter which hits the doormat potentially delivers an economically catastrophic blow. While wealthy ignoramuses far removed from the reality of daily life for ordinary people, imagine that the social problems must be due to poor budgeting skills, they simply haven't a clue what it's like to live your entire life not having any surplus money to set aside for unexpected demands for cash. If a person who's in receipt of £73 weekly income gets a £80 parking fine, how are they supposed to pay it?
Of course, I'm clearly far-removed from the struggles of poverty... or am I?
I am lucky enough to be able to survive more than 2 missed paycheques without ending up on the street, when ⅓rd of UK people are not so fortunate. However, my so-called financial security is due to having access to a good line of credit, which is not the same as having a pot of savings for unexpected expenses. If I suffer another period without income, I slip deeper into debt and my miserable existence continues.
It might seem foolish to spend money on a new iPhone and a holiday, when I'm deep in debt, but I worked for 10 consecutive months without a nice relaxing break. The rewards for my hard work have come in the guise of a place to live and enough money to be able to travel to work, which aren't really rewards at all. The next big reward is going to be the repayment of a significant chunk of debt, which again isn't really a reward. Working relentlessly without reward is not a sustainable situation, so I've chosen to prolong my indebtedness a little bit, because I can't put my entire life on hold, eating cold baked beans and living in a cardboard box, for the sake of getting out of debt a little quicker.
There are many aspects of my attitude and behaviour which seem very vulgar. How dare I talk about poverty and financial distress, when I seemingly have a good job and spare cash? How dare I talk about money worries and the burden of debt? How dare I compare myself with people who are two missed paycheques away from ending up on the streets?
I've been on the streets. I've slept rough. I know how quickly everything can fall apart. I can tell you exactly how I'd end up back on the streets.
Yes, I can borrow to service the interest on my loans, but that only delays the inevitable temporarily. Yes, I'm seemingly quite employable, but there's no point getting a job which doesn't pay enough money to repay my debts. Yes, I seem to have access to enough cash for rent, deposit, car and other major expenses, but that cash comes from my credit facilities, not my savings.
I've been battling a toxic combination of ill-health and mountainous debt for far too long. I'm starting to feel like it's an unwinnable battle. Of course, capitalists, bankers and the rentier class don't want you to be able to escape your economic fate - they want you to be insecure, so that you'll accept a minimum wage zero-hours contract McJob and kindly donate 100% of your income in the form of rent, bills and interest on loans, to those who really don't need the money.
This week has gone really slowly.
This year has gone really slowly.
As it stands, there's a plan in place which will dig me out of the hole I've been stuck in for far too many years. It's heavily reliant on better luck than previous years. I really don't need anybody throwing a spanner in the works. I really don't need to find myself unexpectedly looking for work again, as has happened far too often in the past.
If it seems like I'm unaware of my good fortune - unable to get things in perspective - then it's due to the present discomforts. Of course, I may look back upon this time and be unable to understand what I was complaining about so much. Unpleasant memories always fade faster than pleasant ones. I'm sure I'll look back with some regret, that I didn't enjoy myself more along the way; take more pleasure in the journey.
It's hard for those who've gotten used to having money to relate to those who've gotten used to living in fear of the letters hitting the doormat, the phone ringing and the doorbell. It's hard for those who've gotten used to regular income, to relate to those whose unreliable health has meant that financial planning is hard, and regular mortgage payments have become a tyranny; fear of getting into rent arrears and facing eviction being a constant nightmare. It's hard for those who don't have mountainous debts to relate to those who know that their entire lives could be destroyed in the blink of an eye; how quickly a small debt can become a ridiculously huge sum of money once legal fees, court fees and recovery costs have been added on. Money - or lack thereof - can destroy a person like nothing else.
Yes I could have saved myself some money here and there, but the thing that's going to save me from my dire situation is not economising and budgeting... it's oodles of cold hard cash. The thing I need is for the coming months to go as planned, so I can keep working and keep earning money. You can economise and budget as much as you want, but 100% of nothing is still nothing. If you earn nothing, it doesn't matter how great you are at financial planning, you're in deep trouble.
One big variable is my health. My health could scupper my plans to work hard. Hence the holiday. Hence the rest.
It might seem wasteful to have spent 5 out of 7 days in bed, but I needed to recharge the batteries.
It might seem wasteful to have spent so much of the last year miserable, but I needed to pay off my mountainous debts.
If I could go to sleep and wake up next March, with no recollection of the intervening months, then I'd absolutely love to do that. I'd gladly give up all those many months of my life, to be able to press the fast-forward button and skip the anxiety-inducing and super-stressful, boring, monotonous and unrewarding bullshit in-between then and now.
Yes, I'm wishing my life away.