This is a story about sedition and treason...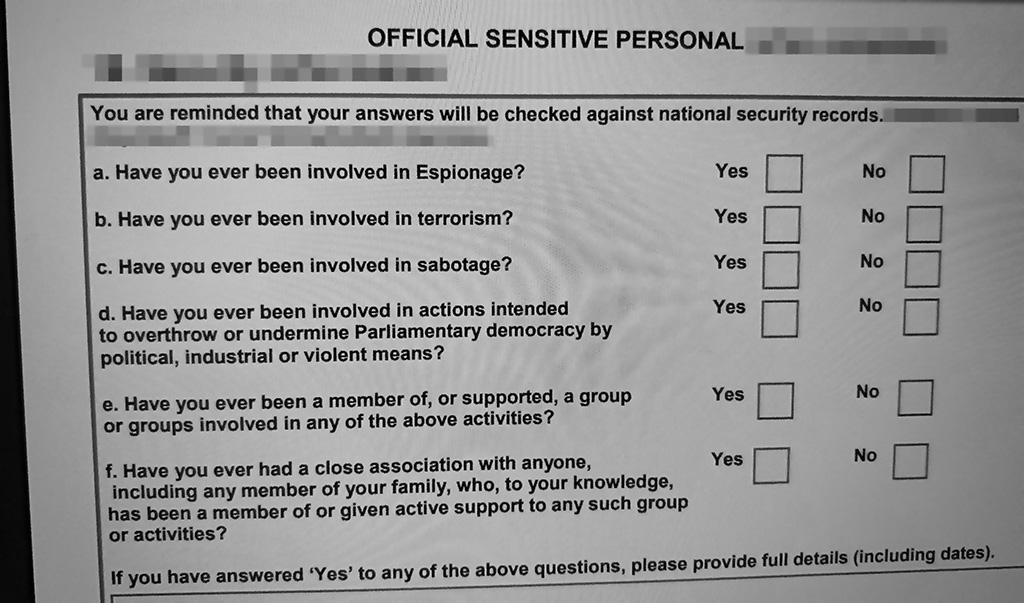 Questions A, B and C seem pretty reasonable to ask. It seems like a good idea to ask people if they're spies, terrorists or saboteurs, if they're going to tell you the truth. It seems logical to assume that spies, terrorists and saboteurs are enemies of civilised society. It seems sensible to exclude spies, terrorists and saboteurs from positions where they could be a threat to public safety.
Upon closer examination, spies and saboteurs could sometimes arguably be said to conduct their actions in a responsible way, in the course of the furtherment of their laudable objectives, in the absence of other available options. Spies exist when diplomacy and co-operation have broken down. Saboteurs exist when tyranny, oppression and exploitation are so great that a worker must throw their clogs into the loom, to save themselves and their kin. Without wanting to fall foul of the nebulous terminology, it would be remiss of me to acknowledge that a person could certainly understand the reasons for spying and sabotage - in a theoretical and academic sense - and perhaps even excuse those acts, where the outcome clearly results in a positive outcome for the greater good, according to utilitarian philosophy.
Of course, I must tread very carefully.
I have to watch my words.
What on earth is question D getting at? I once destroyed my ballot paper as a political protest at the lack of a candidate and a party for whom I wanted to vote. Does that count as "[undermining] Parliamentary democracy by politcal … means"? Should I tick "YES" to this question? Is my spoiled ballot paper recorded in "national security records" which I'm reminded my answers will be checked against? Why even ask me if you already know the answer?
Of course, the idea of asking people "are you a terrorist?" is pretty ridiculous, so why shouldn't this same 66-page form ask vague questions which are almost impossible to answer, unless you think of yourself as such a perfect citizen and well-behaved patriotic loyal subject of Her Majesty Elizabeth II, Queen of the United Kingdom of Great Britain, Northern Ireland, its dependencies and its overseas territories.
Do I believe in the Westminster system of Parliamentary democracy? Do I believe in democracy at all? For the purposes of my rational economic self-interest in the immediate short-term, within the context of filling in this 66-page form, which is of vital importance for the future of my career, the answer is "yes" for sure.
Why am I using such cautious and measured words? Why am I couching what I say in caveats and disclaimers?
The question arises: Is it irresponsible, socially destabilising or otherwise contrary to the interests of national security, to discuss the merits of 'political change' in a purely academic and theoretical context?
Do scholars who study, think about, write about and discuss alternative political systems, imply some "intent" to overthrow or undermine Parliamentary democracy. For example, in the instance that a learned professor were to stumble upon compelling evidence that there is a better system for the decision making which is supposed to improve the human condition and the lives of the masses, then is that professor allowed to discuss it; perhaps even to promote the idea? What if other academics take an interest in that professor's ideas, and they become supporters of the theory? What if this group of academics could be said to be a group of likeminded individuals, similarly swayed by the evidence and the ideas?
Have I made myself into an enemy of the state by taking an interest in philosophy, politics and economics, which has forced me to consider the question: Is our Parliamentary democracy the best available option, or should we change to a different system? Does posing this innocent question constitute an act of undermining Parliamentary democracy?
By the time we get to question F, I must surely answer in all truthfulness that I almost certainly would have - at some point in my life - had a close association with somebody who's been a member of a group or supported a group whose intent could easily be interpreted as 'offering an alternative' to Parliamentary democracy. This is about as close as I'm prepared to go, to admitting something which is against my rational economic self-interest in the short-term, for the furtherment of my career objectives.
Most of my friends are technologists. Many of my friends have created pieces of technology which must surely have undermined Parliamentary democracy. Many of my friends are the original engineers and architects - the visionaries - who are responsible for the birth of social media. What greater threat to the ruling elites has been born, since the invention of the printing press?
Terrorism and violence are hard to defend; seemingly always unethical. It's beyond the scope of this essay to discuss the ethics of violent rebellion by the victims of tyranny and oppression. I'm in too much of a vulnerable situation to say something like: "I can understand the reasons why desperate people might resort to violence, in the absence of all other options, like any cornered animal".
I may hold unspeakable views, which have no place in a civil position of public servitude. My upbringing in the company of academics, in and around the buildings of Oxford University, may well have scuppered any ambitions I might have of playing a role in the running of the country, and hopefully making a positive difference to as many lives as possible.
Even within the walls of a British university, an academic may find themselves falling afoul of laws - new and old - which are designed to punish any agitators who might threaten societal stability and the established order. The power of the internet allows compelling academic arguments to be disseminated to vast numbers of people at incredible speed, and for the public's imagination to be captured. Academic papers are no longer written in Latin and kept safely out of the hands of the hoi polloi, lest any revolutionary ideas they might be harbouring be provoked.
Do I hold my tongue for the greater good - in support of a paternalistic and elitist establishment - because it will perpetuate the state of unhappy stability, which is at least preferable to civil war? Do I speak my mind, because to do so is a privilege afforded by the unpalatable actions done in the interests of national security? If I don't take advantage of freedom of speech, am I really a patriotic citizen, loyal subject of Her Majesty and supporter of Parliament, given that wars are waged on my behalf so that I might enjoy the luxury of being able to write essays like this?
I think I'm just going to tick "no" to all the boxes, because I can't be bothered to have this conversation a second time, when I'm being interviewed by the thought police.
Tags: #privacy #politics #philosophy #economics #writing #socialmedia #democracy #capitalism