This is a story about keeping up appearances...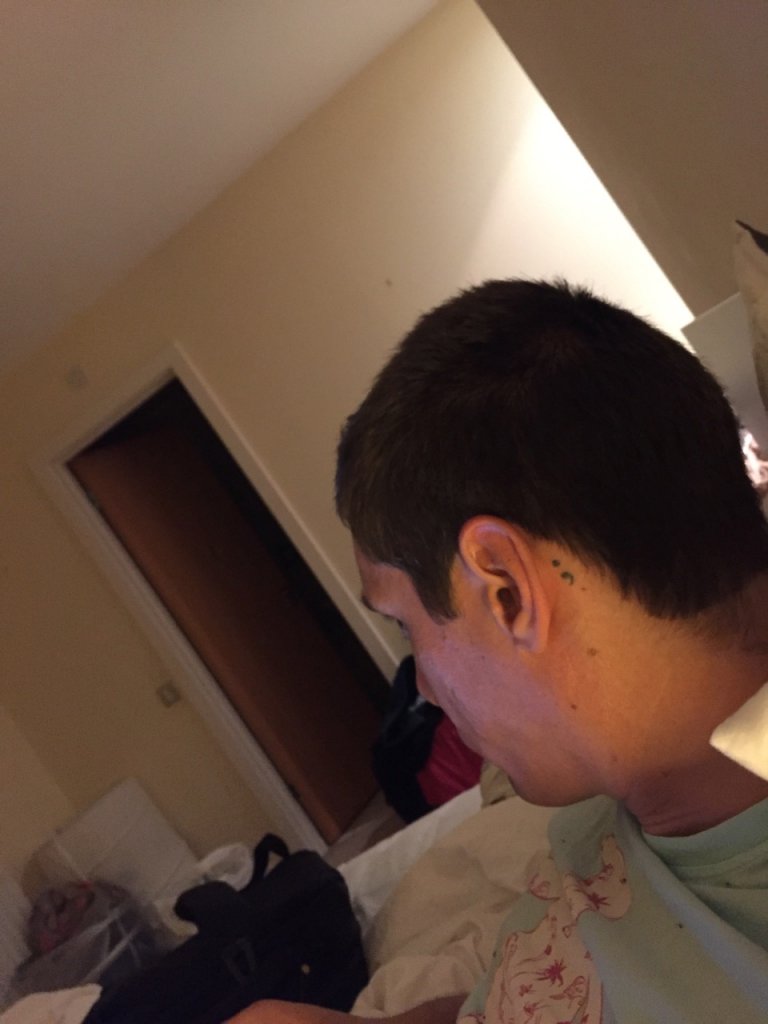 I have a tattoo that I can't cover up, which tells the world that I've had problems with suicide attempts, self-harm, depression, bipolar, alcoholism and substance abuse. I have a blog which puts me on page 2 of Google if you search for my name. I have a Twitter account that has the most followers out of anybody who shares my name. I'm hardly being shy and retiring about my dark past. I'm hardly keeping my skeletons in the cupboard.
One of my work colleagues has already found my blog - by Google'ing me - and has visited a few times. I can see that he uses the WiFi at work and I can see that he uses his Apple iPhone Plus. That's happened waaaay too soon.
An old friend who I know from the kitesurfing community recommended me for the job. He's friends with another colleague on Facebook. I don't use Facebook much, but when I do, it's usually because I'm having suicidal thoughts and it's a cry for help. If my friend commented on something I put on Facebook, my other work colleague might see it.
It's a small world, so that's why it's a good idea to be open and transparent. Nothing to hide, nothing to fear.
Of course, people who suffer from mental health problems - including addiction - are heavily stigmatised. If I didn't think I was able to do my job highly effectively, with an excellent level of professionalism and reliability, then I'd be slightly more reluctant to publish the inner-workings of my mind, and make my struggles a matter of public record.
I take my readers on a journey on me, and some of them will become sympathetic towards me and my story. Generally, if you read forwards and follow along with me, you'll gain a positive view, but if you read backwards then you'll dislike me and imagine that I enjoy the benefit of hindsight, which I don't.
It was particularly telling, the difference in reactions to my attempted suicide last September. My colleague who had followed my progress on my blog was sympathetic and caring. My colleague who read back through my blog, starting from the point where I believed I was going to die, was so unsympathetic that he sacked me and evicted me from my home, because I was on a life-support system and therefore unable to phone and say that I was going to be out of the office for a couple of days. He literally didn't care that I was in a coma with a tube down my throat and a machine breathing for me. That's the difference that it makes, reading my blog backwards versus reading it forwards - it can make a person not care that I'm dying, or it can elicit a sympathetic response to my plight.
For the avoidance of any doubt, I'm through the worst of my suicidal moments, now that the stress levels in my life are subsiding. Naturally, being homeless, close to bankruptcy, jobless, friendless, single, new to an area and generally having nothing and nobody is pretty damn awful for a person's mental health. In the space of 6 months I've made some friends, got a girlfriend, earned some money, bought a car, rented an apartment, got a local job and gotten myself a bit more settled, although I'm still a long way off having security and stability.
What might annoy my colleagues is thinking they've got a bargain - that I'm an expert in my field and I've got talent and experience - when in actual fact they've got a homeless bankrupt junkie alcoholic with mental health problems who never even knew how to switch a computer on until yesterday. Surely I could have been bought for minimum wage, because I'm desperate and vulnerable? This was certainly the case with the guy who didn't care that I was on life support - he felt ripped off, when he discovered the truth about me, even though I had nearly completed the first phase of the project I'd been working on, and the results had been fantastic.
I think really horrible people are few and far between. I think unethical exploitative bosses are few and far between. I really don't think it's going to be a problem that my real identity doesn't quite marry up with corporate expectations. I'm always well presented at work. Nobody would be any the wiser about my dark past, except for the aforementioned tattoo, of course.
I'm mentioning the tattoo and putting up a picture of myself without my infallible disguise quite deliberately, of course. Of course I know what I'm doing. I'm not exactly unhappy about anybody knowing about who I am, because I find it too exhausting to wear the corporate mask and pretend I'm perfect. It's not nice to have to live a lie and cover up any struggles I might have in my personal life.
It's been nearly 8 months since I had any problems with my mental health. I don't take any drugs or medications. I drink in moderation. I'm not suicidal. I'm not self-harming. I'm delivering high-quality work to the satisfaction of my bosses. My finances are improving. I've got my own place. I've got my little car. I've got my girlfriend. I've got my friends. Things aren't perfect, but they're improving and they'll continue to improve as long as I'm allowed to keep working and earning money.
It's a big gamble to keep this big digital presence alive. I obviously can't write about anything that would be unprofessional, breach my code-of-conduct, bring my profession into disrepute, breach confidentiality or any any way shape or form be considered unacceptable behaviour, but to delete my blog and my Twitter and Facebook account and expunge myself from the internet would be a considerable loss to me, and would be likely to negatively affect my ability to cope and function.
I hope that if my colleague(s) continue to read this, they can see it for what it is - my healthy coping mechanism, and something I need, because it brings me great comfort and a lot of care and support.
So far, I only know for definite that one work colleague is reading my blog. I hope to make friends at work. I need friends. I don't see it as a bad thing that somebody's reading.
I don't want the secret identity thing. I don't want the double-life thing. I've got nothing to hide; nothing to be ashamed of.
Tags: #writing #socialmedia