This is a story about whether it's right to stay with an alcoholic and/or an addict...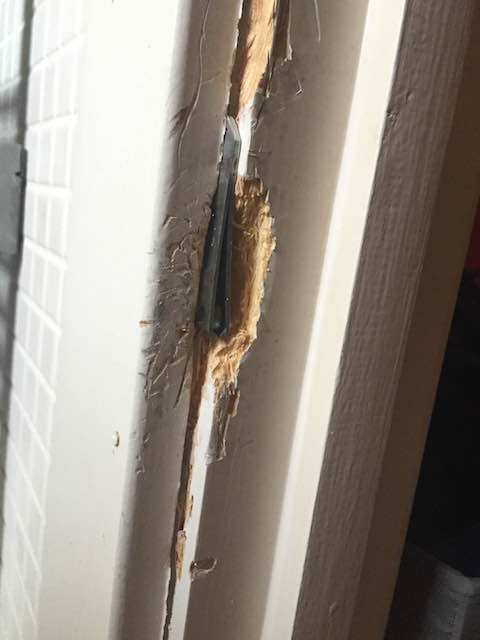 Poor me, poor me, pour me another drink. Like every alcoholic and/or addict I have a million and one reasons why I had one too many bottles of wine, or why I lapsed or relapsed into drug addiction.
I mentioned on Facebook earlier today that I rearranged the furniture in a hotel room in Bournemouth, right at the very worst most moment of my divorce. If you think that "worst moment of my divorce" caveat is me getting my excuses in early, then you're wrong. Let's get this straight: I didn't break anything or chuck a telly out of the window, but I made a lot of extra work for housekeeping.
I was actually so concerned that I was in such a bad frame of mind that I was actually going to throw a telly out of the window, so I phoned the duty solicitor. The duty solicitor gets phoned after you've been arrested, if you don't have your own solicitor.  I had not been arrested, but I didn't like the way things were going.
The duty solicitor was rather bemused by a person ringing up to chat about things before they're arrested.... in anticipation. He said that he didn't think the police would arrest me, and I should probably just ring friends and family. I was loathe to involve friends & family in a mess that I had made.
Eventually, having tried several other local solicitors, I rang the family solicitor, who phoned my Mum, who told my Dad to phone me. He was exceedingly unhappy that one of his longest friends had suggested that I might be in the need of a bit of support during a messy divorce.
I rang my friend Tim, who texted an ex police constable, who confirmed that the police would not press charges given the circumstances. Tim came to the hotel, and said it wasn't bad at all and we could fix it up in 5 or 10 minutes, but I just wanted to get home.
Despite a couple of offers of financial compensation for any inconvenience or damage the hotel manager laughed, being rather experiences with the wrecked hotel rooms due to the large amount of stag dos who visit Bournemouth. His housekeeping staff had not even commented. However, I still feel guilty about that today.
That was December 2013.
Let's make one thing really clear before we go on. My ex wife did not addict me to drugs. She's not responsible for any of my addiction: then or now.
My startup company fell to bits because I was under unbearable pressure to deliver Investment Banker lifestyle on startup wages, and base my company in Bournemouth, where there are no angel investors, no venture capitalists, no startup scene, no customers, it was over 2 hours away from my co-founder and his new baby girl. It was an irreconcilable problem, with my ex-wife being least willing to compromise despite having a job she could work anywhere in the country. But, that's not her fault. It's my fault. It's my fault that I made myself CEO instead of my co-founder. It's my fault I couldn't handle the pressure. It's my fault I wasn't strong enough to leave a toxic unsupportive relationship.
Drugs - legal highs - appeared on the scene in the autumn, as I sat at home, desperately depressed about the situation. I had already tried about 5 different antidepressants by this point, and had even moved on to trying over 10 extremely rare antidepressants that are extremely rarely prescribed, even in treatment-resistant depression cases.
It's not like I didn't recognise the problem. I accessed local drug & alcohol drop in centres, where I sat listening to teenaged alcoholic prostitutes talking about their children being taken into care, knowing that I owned my own home, cars, boats, hot tub, summer houses and had tens of thousands of pounds in the bank. I left, because it feel like sheer selfishness to deprive the time that could be given to somebody more needy.
I spent a day in a residential rehab as a day patient. By the end of the day, I had brushed up all the leaves, done all the washing up, hoovered, mopped and done just about everybody's weekly chores. The people's lives were fascinating, but most of the day was drinking tea & coffee and sitting around.
I don't know if I was successfully hiding my habit, but I gave a talk to a bunch of startup founders in London, and a few came over and said they'd heard me speak in Cambridge, and they thought my public speaking had improved a lot. Go figure.
The only real problem for hiding my habit was school holidays - my ex being an educator - when I wouldn't have the daytime to take drugs. Christmas holiday was unspeakably awful, with me sneaking off in the middle of the night to take drugs.
Getting clean and staying clean is my sole responsibility, but I found it telling that the only book on addiction my ex read parts of was called "Nag your loved one sober".
After Christmas, my ex demanded that my parents take me away. Naturally, they resisted and I resisted. My dad came down, and my ex had been nagging our mutual GP about how hard it was on her to deal with my addiction. Deal with my addiction? She didn't even know about it until a week earlier, when I struggled to hide it during the school holidays.
I was completely spooked by the sudden appearance of my dad and my GP, through no request of my own. The idea of leaving my home, my friends and everything else I'd spent years building around myself, to go live in a house I'd never lived in, trapped in a village where I didn't know anybody. That's fucking offensive.
Anyway, the psychiatrist I saw just before I left Bournemouth told me to taper off the legal highs gradually - over the course of 6 to 8 weeks - because nobody knew what withdrawal would be like.
Having gotten rid of me to my parents' house, my ex then refused to take my phone-calls and generally treated me like dog dirt.
I would say, that if it turns out you're dating an addict and/or alcoholic, you should make a decision - based on how long you've been together - as to whether they're the type who's going to bleed you dry and move onto the next unwitting victim, whether you're prepared to help them - and trust me, it's really fucking hard - or whether it's your moral duty to help them because they became unwell while they were your husband, wife or long term partner.
Anyway, my ex continued to be a right ***** until someone who isn't me hacked her email account and found out that no sooner had I left MY house, she had been dating other people. I confronted her with her infidelity, and she started treating me like a human again. Unfortunately, I thought a leopard could change its spots, so I spent £4,000 on flights to Hawaii to get married and £3,000 on an engagement ring. As you can tell, I'm the kind of junkie who spends all their money on themselves.
I struggled with sobriety, but held down a couple of good jobs and continued to be a good provider. My ex could have called off the wedding at any point.
The wedding, which was supposed to be stress-free with no guests, somehow became one of the most stressful things I've ever had to deal with. The whole holiday was ruined by my bridezilla. In the end, I threw a tantrum and said I could no longer deal with teepees and camper vans that break down and other eclectic but stressful shit that I had to organise, and booked us into the $800 a night Hilton. I had cocktails by the pool and it was bliss, but there were two days until we had to go home.
I relapsed as soon as we got home. It didn't help that my then-wife had booked a taxi online, specifying the wrong year. We could have stayed at Heathrow and waited for 4 hours, but having been on a plane for most of a day, I wanted to get home: unexpected £180 taxi ride in a black cab that I managed to negotiate.
My then-wife must have ordered my parents to come and 'deal' with me, because my dad marched into my house and said "you're an addict. you're an addict. Can't you see you're a dirty addict?" which was rich coming from a man with a history of drug use. That's not the kind of treatment you should ever receive in your own home, nor did it take account of the fact that I'd been in a lot of correspondence with several specialist psychiatrists who could deal with my specific condition: dual diagnosis. I was bipolar before I was a junkie, and the two do not complement each other well.
My mum had decided that she could 'smell' drugs on me. Unless she has a gas chromatograph mass spectrometer for a nose, she is wrong. You can smell smoke and cannabis on somebody's clothes, but drugs that you snort, swallow and inject are excreted through kidneys and faeces. It's a completely disproven hypothesis. Anyway, My then-wife did nothing to vouch for my sobriety when my mum had a go at me on my sister's wedding day (I was clean).
I'd gone back to working at JPMorgan, and they coughed up £12k for me to go to The Priory for 28 days, without a single qualm. My general psychiatrist had said I needed treatment in a therapeutic environment, which clearly my home was not. My then-wife said that she'd divorce me if I followed his advice and got treatment, and that she'd rather be a widow than a divorcee.
On my first day at The Priory, I phoned the local florist near our home, and asked them to leave a different flower each day under the windscreen wiper of my then-wife's car, before she left for work. She however, joined the dating sites again and decided not to visit or phone me.
During my stay at The Priory, we established that I was not well supported at home, and indeed, perhaps my relationship did not contain the prerequisite levels of respect, love, care, compassion etc. etc.
I panicked on day 27 of rehab, realising I had to divorce my wife, sell our house and decide what I was going to do next with my life. I spent the day talking to a few friends about different ideas, and returned for my final day a lot happier.
Straight after that was the birth of my niece. My loving then-wife did not attend. In fact. I remember her once being extremely put out that my grandmother had the temerity to die at an inconvenient moment. I think my friends had been right all along: she really was "the poison dwarf".
Anyway, after being under virtual house arrest, where I must admit I abused a lot of drugs as I tried to grapple with the magnitude of selling a house and downsizing. Probably moving to London. The friends who would take sides. Having to get a new job. I got fed up with my then-wife making me feel absolutely terrified by her unjustified rage and abuse, so I took to cocooning myself into a single room of our ample 3-bedroomed house, and even built myself a man cave in our summer house. She was never content to leave me be, and would hammer and scream all the time at whichever door I cowered behind.
Then, I sent an SOS email to our parents, to come and force our separation. I was starving. I had no toilet, no shower. Do you think that's the way that people get clean & sober?
My friend Posh Will kindly offered his spare bedroom to get back into London life. I was clean & sober, riding my bike all over London, incorporating a new company and touting for consultancy work. I was entrepreneur-in-residence at PlayFair capital and I was loving the London startup scene. I was making new friends and I quickly got a beautiful new girlfriend. I know I wasn't the first to commit adultery, because someone who isn't me hacked my then-wife's email and found out she was fucking a married man with kids.
Then, divorce turned nasty. A six week house sale turned into a six month sale, simply because my then wife wanted to drag it out, knowing I had no income yet in London. She kept making me do the 4 hour round trip to Bournemouth to do trivial things she could do herself, like get estate agent valuations. Finally, we arrive in December 2013, where I went to a hotel because our house was sold but I was so angry and frustrated by my wife dragging out the sale to the point I almost ran out of money, I was going to trash the place.
Sure, I then did a 5 days of a 10 day detox, at a place where they didn't know what a detox was, or how to deal with somebody with a benzo habit. I then did 7 weeks at a proper residential rehab. My parents were on my no-contact banned list, but my mum still wrote to me with Louise's divorce demands. I told her from the start I wanted to rent out the house, defer the divorce and deal with it all when I had my health. When she refused, I said take whatever you want, but just don't drag it out. If I wasn't the kind of person who assumes that everybody's OK deep down, I'd say that it was all because she's a vindictive, abusive, greedy, *****.
Anyway, after a mix-up at my parents about what day of the week it was, my dad demanded that I get dressed in front of him and leave immediately. I agreed to leaving immediately, but I refused to get dressed in front of him, on the grounds that it would be one of the most degrading things you could ever ask a person to do. He manhandled me and a mirror got knocked off the wall, slicing my shin muscle in half along with 4 tendons and 2 nerves. Only then did he allow me to get dressed in privacy.
After my operation, I was taking fentanyl and tramadol - both strong opiate painkillers - for the pain, and yet I managed to avoid becoming addicted to these drugs. Having to wear a plaster cast kinda means you're going to have to destroy a nice business suit, and who wants to hire somebody who's sick?
My friends said it was time for me to get a place of my own, although I was still on crutches. I rented a room nearby. I went for dinner with Posh Will, and I was honest with him about my addiction struggles, and his attitude towards me changed visibly immediately. Our friendship was almost ruined, because he had such strong preconceived notions about what drug addiction is. He virtually accused me of being at risk of coming round to his house to steal stuff to feed my habit. I had the money from the sale of my house and some successful Bitcoin investments. I didn't need to steal from my friends. I cried myself to sleep and then tried to commit suicide.
Hospital discharged me, but I'd lost my flat, so I was homeless. I lived in hostels and Kensington Gardens. I guarantee you that not many people get clean from drugs when they're homeless.
Anyway, I finally got a great group of friends at a hostel in Camden, and a beautiful girlfriend. Those were some of the happiest months of my life. I also got an IT contract for Barclays and a room in a student house in Swiss Cottage.
I did have a couple of 'lapses' on mild drugs, but I was clean and I was happy. Then Barclays terminated my contract and I was evicted (the landlord was selling the apartment).
I tried to put a brave face on things and have a happy family Christmas, but I'd broken up with my girlfriend, lost half my friends, lost my contract, was homeless again. A lovely family in Ireland saved my life, looking after me at one of the most depressing and vulnerable times of my life.
At the suggestion of Posh Will - ironically - I stayed in a hostel in Shoreditch. Initially I had a whole dorm to myself, but when they realised I had an OK personality and was a long-term resident, they moved me to the infamous 'Ward P'. The drink and the drugs were off the scale in that place. I had to leave because I was off my face around the clock, but it seemed normal because everybody was.
I started staying in AirBnB places, because they were homely and I could do short [but expensive] lets. I'd recently reconnected with an old friend, so it was nice to live near him, in the East End.
I was running out of money again, so I stayed in a really awful hotel that's covered quite extensively in the blog post called Finsbury Park Fun Run.
That got me back to the Camden Hostel, but I was still hopelessly re-addicted to drugs. Trust me, it's hard to hide a drug habit in a 'regular' tourist hostel, and the tourists don't really love it if you're acting all weird because you're so strung out you can't even see straight.
Somehow, I managed to land the HSBC contract.
I ran out of money. Working for HSBC while living in a hostel is just not possible either. More drugs - whole week AWOL from work. Got away with it.
Stayed clean all the way to Christmas pretty much. I was a wreck on Christmas Day. I hadn't eaten for days. My Kiwi sofa surfer had kindly cooked the turkey but he'd pretty much cremated it, and it'd taken him hours to coax me out of my bedroom. Still, it was super kind of him to cook the world's most depressing Christmas lunch.
Then drugs, drugs, drugs to March 21st. I had a bag that could quite easily have kept me supplied for 3 years. That's the problem with being rich and choosing a cheap and powerful drug - you're never going to run out.
Are you spotting a theme yet?
January, February and March are my nightmare months. If I'm off kitesurfing at some exotic location, no problem. If I'm working a contract, no problem.
This year, I've had acute kidney failure and severe and ongoing leg/foot trauma AND the loss of my contract at Lloyds to deal with. However, I had the best Christmas ever and I'm also dating the world's most amazing girlfriend, so perhaps these things should cancel each other out?
I have to think about drugs at the moment, because my leg is so damaged that I need a cocktail of strong opiate painkilllers, nerve blockers and a sleep aid, just to be able to partially function. I wake up every 4 hours in the night in excruciating agony.
Through the urgent need to re-stock on painkillers, I found myself back on the Dark Web. It was a stupid move. I kinda knew I'd never be able to resist the urge to go window shopping. I tried to order weaker drugs that might satisfy the craving that was instigated by nothing more than buying other products, but lapse and relapse were inevitable.
My most amazing girlfriend in the whole wide world is somebody I could spend 100% of my time with, and never get tired of her company. We like the same trashy TV. We enjoy the same high-brow movies. We both have an insatiable appetite for feature-length documentaries. We love London. We love the same things and we love each other.
Why then would I relapse onto incredibly dangerous and destructive drugs?
The watchword you need to look for here is trigger. When I was with my ex-wife, if she ever went on holiday on her own - which is something she did regularly during the death throes of our relationship - it built a Pavlovian association with an opportunity to take drugs without having an aggressive abusive ***** attempting to kick my prison door in and screaming horrible things at me.
I found a black market seller who would supply just enough for me to have a moment of fun, but not enough for me to end up in a destructive binge. Then that supplier disappeared, and I ended up buying the next smallest bag I could find: 100 to 200 mild to medium strength doses.
The net result is that I spent all yesterday evening and all last night trying to jam my locked bathroom door closed with a pair of nail tweezers, because I was convinced that angry neighbours had phoned the police, and even a mob had formed outside my apartment, ready to heckle me when the police led me from the building, cuffed in shame.
That's a net result of two things:
Having more than you need of a highly addictive drug is bound to lead to a binge
It's impossible to measure milligram doses of drugs without excellent scales. The difference between no effect, and psychotic overdose, can not be seen by the human eye
I sold my scales because I've successfully been having long periods of abstinence, and it makes sense to get rid of drug paraphernalia that could 'trigger' a craving.
Of course, I should have controlled my craving. Of course, I knew what the worst-case scenario would be. Of course, it seems to suggest that the love of my beautiful girlfriend is not enough.
All I can say in my defence is that my life is pretty depressing right now. I'm on such strong pain relief that I can barely even concentrate on writing. I'm not well enough to go back to work. I've been stressed about running out of money and being evicted.
Life is also awesome right now, because me and my incredibly fetching and intelligent and knowledgeable girlfriend both have riverside apartments, and we take turns to spend nights watching sunrises and sunsets.
She has a really difficult decision to make right now. My longest period of abstinence from drugs is what? 9 months, since becoming addicted. My longest period of sobriety was 121 days. All my money has been frittered away on private healthcare, periods where I was too unwell to work, and yes - perhaps as much a 5% - has been spent on drugs. Would you choose somebody like that for your boyfriend?
Alright, so my drug habit isn't going to lead me to a life of crime. I've been cautioned by the police 4 times, but there's not much point in wrecking my career because I'm an addict is there, when I'm not shoplifting, dealing drugs, robbing, doing fraud or committing any other crime.
However, this weekend has shown that I still have the capacity to get myself in a life threatening mess. I was ready to stab myself in the carotid artery this morning, rather than have my life ruined by a criminal record and have all that shame on top of what has already been a pretty awful February and March.
Of course, nobody can deny that I brought this on myself and that the behaviour is just the same as it was over the last few years. Is my addiction getting better? It's certainly not cured.
If you want to know if my addiction is getting better, you could look at my medical records for 2014. I was an inpatient for 14 weeks. You could consider the fact that the longest period I had without my drug of choice was 2 weeks, for the first couple of years. You could consider the fact that I'm in a meaningful relationship with a kind, caring and compassionate girlfriend who's sympathetic and well informed. I'm not lying to her to have a drug habit behind her back. I've lied to her twice when she went away on holiday, both times shortly after I had lost a contract and was a bit depressed.
Ask yourself, am I worth knowing as a friend? I could drop a dirty HIV or hepatitis infected syringe in your kid's playpen. I might replace your salt with cocaine for a prank. I'll probably take money out of the purse and wallet of everybody in your house. I'll nick anything that isn't nailed down. All I want to talk about is drugs drugs drugs and my life story's not interesting because it just goes addiction addiction addiction. I'll bring shame on your family and you'll get in trouble just because you're friends with me. Not worth it, is it?
What about dating a junkie? Well, everything they say is a lie, and you won't like having sex with them all the time because you know they're probably thinking about a syringe of heroin while they're doing it to you. They'll take all your money and ask for more. Nobody ever got cured of drink & drugs. Death's too good for 'em.
I do feel terrible about the lies [two] and the betrayal of trust. Also, she knows that a binge could easily hospitalise or kill me. She's also trying to have a relaxing holiday break, but she knows I'm sick, haven't had any sleep and haven't had anything to eat.
She can't watch me like a hawk all the time. She can't spy on me using webcams when she's on holiday. She doesn't know what I get up to at home when she's at work.
Why take a risk on a loser with such a poor track record?
I've told her if she wants to break up with me, I'll fight to save the relationship, but I won't just say anything to talk her out of it. I actually advised her to break up with me, because I'm a month or two away from earning money again, I've got depression, bipolar and maybe even borderline personality disorder, along with the death sentence of dual diagnosis. Would you want your kids to have those faulty genes? Would you want your family to find out one day that you've been dating a loser?
Anyway, that's where I am right now.
No amount of stick will stop anybody from taking drink or drugs. I need to find a social group to regularly attend. I need to get out of the house more. Through socialising will come enjoyment of even more people's company, as well as routine. There will be new opportunities. Maybe a new hobby? I'll get a new contract and throw myself into work. Once the money starts rolling in, me and her can have holidays and plan adventures.
Could I replace everything and everybody in my life with supercrack? Almost. It is pretty fucking good. Still, how much money would you need? Even if you lived in a tent, I still reckon food & drink would cost you £150-200k over your shortened lifespan. I do however think you get sick of it after a while, but the bastard thing is so fucking good when you go back to it after a little break.
What can I tell you? That's the truth?
So am I honestly comparing a night with the love of my life, with a sniff of supercrack? No. The comparison is facile. If you choose the tent dwelling supercrack life, there's no coming back from that. Also, I've never been in such a good relationship in my life: it just keeps getting better and better.
One final question to ask yourself? Even if you think you have the perfect partner, perfect friends, perfect job and generally perfect life... do you still occasionally do something that looks totally insane in the context of your amazing life, like get too drunk, or take a recreational drug even though you never do drugs? Do you think the fact that you do that, means you love your partner any less?
Tags: #drugs #addiction