This is a story about decisive weapons....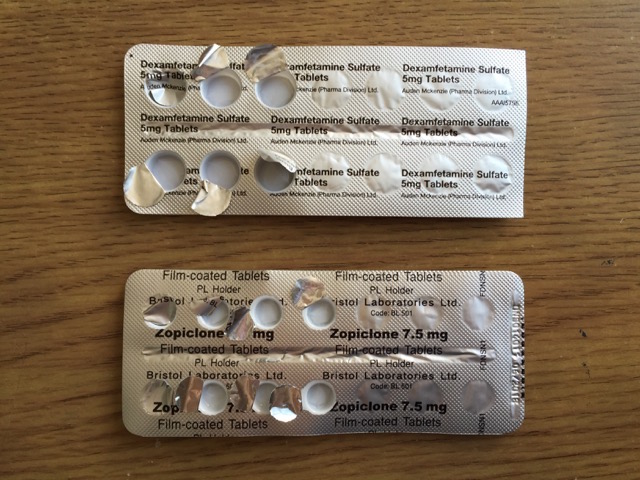 Would I rather have the pilot of my plane, the driver of my bus, taxi or train, as a completely drug-free 'clean' individual, or would I rather that they had taken 5mg of dextroamphetamine before our journey? The answer is the latter, obviously, because they will be more alert, have improved ability to concentrate and faster reaction times.
US fighter jet pilots routinely use 'go' pills before a mission, which confer the abilities above, as well as allowing them to fly longer missions with less risk of dangerous sleepiness. Many road accidents are caused by people falling asleep at the wheel. Coffee will only give you a tiny fraction of the benefits of a 'go' pill.
Do you find that after a really important day at work, where you had to be at the top of your game, and you were firing on all cylinders; perhaps you had a bunch of coffee to keep you sharp.... do you find that you're still buzzing when you get home, and you have trouble switching off and going to sleep?
Coffee - especially the super-strong stuff we seem to drink in London and New York - can contain up to 300 to 400mg of caffeine, in for example a Pret-a-Manger strong cappuccino.
The problem with caffeine is that it's a bit of a crude stimulant with lots of extrapyramidal side effects. That is to say, as you increase the dose of caffeine, most people can't tolerate the way it makes them feel. Interestingly, intravenously, amphetamine addicts can't tell the difference between amphetamine and caffeine. Also, most intravenous amphetamine users believe they are being chased by 'them' - the police, men in black, shadow people, ninjas, whatever - but these side effects are just part of the fun.
So, the beauty of the 'go' pill is that it seems that I get all those desirable effects, with no side effects. You would be completely unable to tell that I was under the influence of 5mg of dextroamphetamine. Recreational use of amphetamines is normally quite obvious to spot: talking too fast, sweating, dilated pupils, restlessness, jerky unnatural movement. No side effects? Well, not quite.
US fighter jet pilots use 'no-go' pills at the end of a mission. Having been kept awake and alert for hours, it's now time to go to sleep or at least chill the fuck out. Sleep can be difficult without a 'no-go' pill.
My personal 'no-go' cocktail allegedly contains Xanax (alprazolam) and zopiclone, which have hypnotic, sedative, muscle relaxant and anxiolytic properties. To be honest, you could probably get to sleep naturally if you took your 'go' pill as soon as you got up, but it's pretty exhausting spending a full day in a highly alert state.
Isn't it madness, me taking all these pills? Shouldn't I just go 'clean'? Isn't it best that I'm completely drug-free?
Do you remember when you quit smoking? You chewed a lot of gum, ate a lot more, drank more tea and coffee. Do you remember when the kids were little and life was really stressful? You drank a lot more gin. Do you remember when there was that project with a really tight deadline and you were working really hard; drinking lots of coffee? You were drinking lots of wine in the evenings to relax. Basically, humans will compensate to make sure things remain balanced. If you hurt your foot, you might find your back is aching, because you've shifted your body weight to one side, to put less pressure on your injury.
My injury's a brain injury and the best thing you can do for the brain is to allow it to find its own equilibrium. However, life must go on. My brain's telling me to go to sleep in a dark room for a month or two, but I need to attend hospital appointments, do the administration for my company, line up my next IT contract, find a new flatmate, move money around and make sure the cash keeps flowing and doesn't run out.
A bit of dextroamphetamine is an effective antidepressant and helps fight any supercrack cravings. It's like methadone for a supercrack addict.
I'm on a mission to get back to coffee and wine as my 'go' and 'no-go' substances. I actually worked really hard to break my caffeine addiction, and now I only drink caffeinated drinks on extremely rare occasions. I'm certainly not habituated into having my morning coffee or cups of tea throughout the day, like the majority of adults are. This is how addiction works: you don't cure the addiction, you just replace it with something else. There was a time when I loved playing with toy cars. I had hundreds of them, and I played with them all the time. Then, I got a computer, and I loved playing computer games... and the process of swapping one addiction for another continued. I'll be just fine and dandy with some tasty food, wine to wash it down with, TV and film to distract me and a girl to put my arm around and take to bed for some rumpy-pumpy later on. That ought to just about tick all my boxes.
In the last two weeks, I broke my addiction to two opiates - tramadol & codeine - and I've obviously been off the supercrack for the best part of a week now. That's fairly impressive. Please forgive me for having the occasional G&T, glass of wine and my little 'go' and 'no-go' pills, just to keep the pedals turning.
I've got a torn muscle and ligament, damaged nerve and fractured ulna (bone in my arm) but I spend most of the day with no pain relief at all. It's only at night that for some reason all these injuries start feeling super painful and I might take a couple of co-codamol.
Interestingly, amongst the opiates, heroin was named because it was thought it would have military applications, making soldiers more heroic. Heroin addicts certainly do seem to be prepared to do almost anything to get their fix and not get junk sick. I guess the idea was perhaps to addict the soldiers, and then deny them their heroin until they had done their mission. I can't really imagine it'd be a great idea to have a platoon of men who are pretty much just dribbling and half-asleep. The Nazis had the better idea, giving their soldiers crystal meth. The nickname "marching powder" for cocaine is literally what it sounds like: cocaine was given to soldiers so that they could go on longer marches. You might think of the pharmaceutical industry as concerned only with the treatment of disease, but they have profited handsomely from military concoctions.
Adding fluoride to the water supply has made a major impact on the rates of tooth decay. Drug evangelists have touted LSD and MDMA as other candidate chemicals to be added to our drinking water. The idea being that criminal and aggressive behaviour might be replaced with love and empathy, or the 'sheeple' might have their consciousness expanded. For clarity: I do not endorse such ideas.
"Go to the doctor" is now a synonym for "go get some pills". People are extremely disappointed if they don't come away from a doctor's appointment with a prescription for some lotion or potion. The reflexive response of people if you ever say you are in pain, is to offer you aspirin, paracetamol, ibuprofen or preparations containing codeine (e.g. co-codamol and Solpadeine). People have looked at me in shock and horror, when I tell them that I don't take any medication for the incurable mutative virus: the common cold. What part of incurable didn't you understand?
Many people with mental health issues are asked "did you take your pills today?" or told "maybe you should up your dose" by people with no medical training or expertise, who they simply encounter in their day to day life, such as family members, friends and work colleagues.
We should be mindful that psychopharmacology is only 60 or 70 years old at most, as a fairly advanced field with the accompanying branch of medicine: psychiatry. Before psychiatry, chemists could offer preparations containing opium, cocaine, cannabis; all of which treat symptoms, not underlying issues. We will look back 50 or 100 years from now, and laugh at how primitive our medicine was... especially when it comes to addiction, mental health and the psychoactive compounds.
One final thought: if the majority of us are taking medication for depression, stress and anxiety, are we sick or are we actually victims of a sick society?