This is a story about inevitabilities...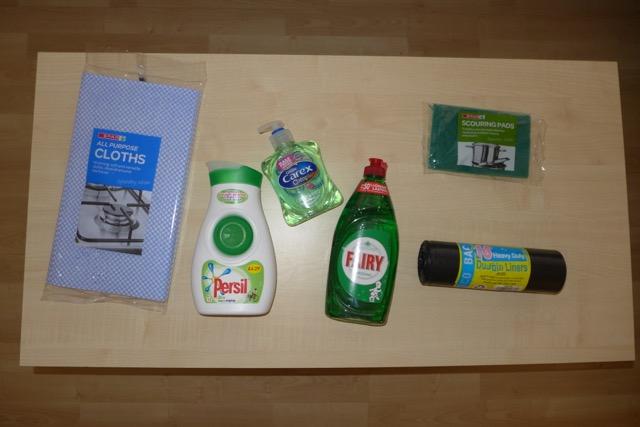 If you stay alive long enough, sooner or later you're going to have to fend for yourself. You might have been lucky enough to have fallen in love with your childhood sweetheart and gotten married young. Perhaps your partner took the baton of domestic duties from your childhood primary caregiver, in a kind of relay race that has insulated you from household drudgery. Perhaps you were born into a wealthy family with a maid and a cook and a cleaner and a nanny... so the items above are as alien to you as anything that was tossed out of a passing flying saucer and into your hands.
In all likelihood, most people in the UK will have the misfortune of having to purchase and use a variety of products that are not glamorous or fashionable, but are essential for the functioning of a clean and hygienic home. The products pictured all belong to a family of consumables that will need to be used until the day you die, to clean up after yourself.
To say I lived a sheltered and cosseted existence as a child is untrue and unkind. However, I learned how to change the filter and engine oil of a car before I learned the importance of defrosting a freezer and cleaning a fridge at reasonably regular intervals. I'm not sure if I've ever cleaned any windows or dusted any cobwebs in my entire life, but I'd probably mowed more acres of lawn and collected a mountain of grass cuttings and leaves bigger - at the family home - than almost any boy in the United Kingdom.
I'm no working-class hero but I'm no pampered and spoiled brat either. I defy all simplistic attempts to classify me with a label of convenience. Even the word "manic" is something that I have taken ownership of - therefore it's me who uses the word ironically, mocking people's prejudices, as opposed to it being a pejorative that could be used against me.
You might believe that nature is 'in-balance' and that the 'top dog' or alpha males will have the best genes, but you'd be wrong. I'm sorry ladies, but if you decided to cash in your chips early with that popular and attractive boy when you were young, you've played a losing strategy. Like chess grandmasters, the most intelligent animals wait for the opposition to make a mistake and have planned several moves ahead, so that when the orgy of juvenile copulation is completed, those geeky boys who didn't get any attention in their teens are able to cherry pick the very sweetest, juiciest and most succulent fruit. Revenge is sweet, if you don't turn bitter.
"But he was so hunky and so good at sports" I hear you wail, neck-deep in housework and childrearing duties.
"But she was so sexy and good at blowjobs" I hear you grumble through gritted teeth as you sit in traffic, collecting your offspring from after-school activities before ferrying them to their next engagement like an unpaid taxi driver.
If your other half is male, does he have a beer gut, hairy ears, man-boobs and think that foreplay is rolling you over and shoving it in dry? If your other half is female, does she have saggy tits, a vagina ruined by the brats you spawned to replace yourself, and bingo wings?
Do you think pornography, prostitutes and rent boys are used predominantly by single people? You need your head examined if you do.
One of my most beloved science teachers - Mr Laithwaite - was reduced to tears when his wife gave birth, because of some emotions that were beyond his describing. These were definitely not tears of sadness though, but neither were they clearly tears of joy. A puppy is not just for Christmas, and a child is not just an inconvenient consequence of 30 seconds of copulation, which can merely be suffocated in a plastic bag and tossed into a canal.
Do you think I don't feel anything when I see a little kid hug their mummy or daddy? Do you think I don't desperately want to have a dog that licks my face and wags its tail in sheer delight when it sees me? Do you think I don't miss my cat, and my eyes don't prick with tears when I think about him?
Men don't have a menopause and erection medications have extended my 'use-by' date. My scrotum will continue to be full of sperm until I die, and if I froze some sperm today then I could virtually guarantee that I would be able to complete a vanity project - the raising of a chid who inherited half my genetic material, instead of adopting a malnourished child with no access to healthcare, or at least a child whose prospects would otherwise be fairly dire without adoptive parents.
"Fuck you, you sanctimonious prick!" I hear you vociferously snarl.
I adopted a kitten and raised him to adulthood even though this clearly made no sense - to bond with an animal that has 38 chromosomes when I have 46 - and I was so concerned with giving this pet the best possible life, that I fed him every day, even when I was skipping a week of meals myself. I care so much about the wellbeing of my cat, that I have only ever made him move house once in his entire life, which was unavoidable due to the actions of my ex-wife - she forced an innocent animal to suffer the upheaval of divorce [my cat, not me... but I suffered too].
They say that for men, moving house and divorce are the two most stressful things that can happen to you in your life. Anybody who's seen my two hand-drawn maps will know that I'm no stranger to moving house, and that a succession of house moves started before I was even 1 year old, and continued regularly at the whimsical behest of my parents, throughout my childhood... despite my childhood one might say.
Thus, we arrive at the present day. Fucked up childhoods create fucked up kids. Quelle surprise!
All I can say is, that when I left home before the age of 18, it was a great relief. Even though I have had to cook, mop floors, hoover carpets, make beds, wash, dry and iron my clothes - it has felt like a privilege, not a chore.
Also, I've used contraception, which has been available since well before the day I was conceived. There's no fucking excuses for any 'accidental' or 'unplanned' pregnancies - we're not baboons or amoeba, reproducing without sentient intellect.
Tags: #childhood